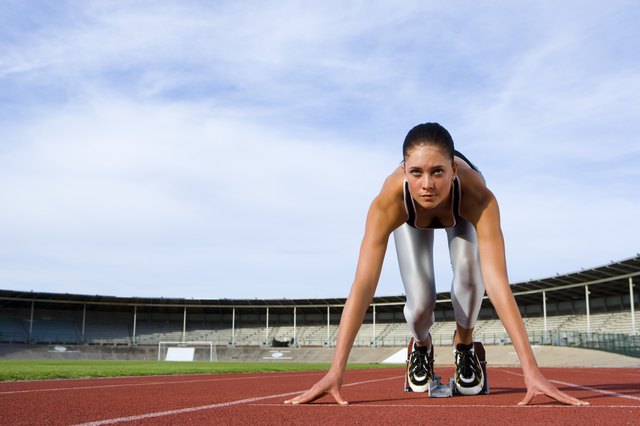 Regular workouts that get your heart pumping are essential for keeping your cardiovascular system in shape. Running offers a simple, affordable and effective way to get this type of cardio exercise. If you're in good shape, your heart rate will return to normal shortly after your run. A heart rate that stays elevated for a significant period may indicate health problems.
Recovery Heart Rate
The time it takes your heart rate to return to normal after exercise, such as running, tells you something about your cardiovascular fitness. The heart rate decrease in the first minute of recovery time is the most significant indicator of fitness. To estimate this decrease, take your pulse one minute after you finish running. Subtract this number from the highest heart rate you achieved while running. A difference of less than 12 beats per minute, or bpm, may indicate poor cardiovascular health.
Resting Plateau
Although heart rate falls quickly during the first minute after exercise, beyond this time, it decreases gradually during a phase called the resting plateau. In some cases, heart rate may continue slowly decreasing for up to 60 minutes after exercise. By 10 minutes after exercise, though, your heart rate should be below 100 bpm. By 30 minutes after exercise, your heart rate should return to normal, say health advisers for the Federal Aviation Administration. If your heart rate remains higher than 100 bpm for 30 minutes or longer after running, consult a medical professional.
Overtraining
Slow heart rate recovery and an elevated resting heart rate may indicate overtraining syndrome. If your morning resting heart rate, taken when you first wake up in the morning, is 5 bpm higher than normal, you may be overtraining. Other symptoms include elevated body temperature, aching below the ribs, fatigue, trouble sleeping and psychological symptoms, including depression and anxiety. If you've been overtraining, you'll need to reduce your exercise levels or take a break from exercising.
Other Causes
Dehydration can increase your heart rate. The less water in your body, the lower your blood volume. Your heart pumps less blood with each beat, so it pumps faster to circulate enough blood. Dehydration is more likely if you run in high temperatures. Staying sufficiently hydrated during your runs may help your heart rate return to normal more quickly afterward. A resting heart rate of 100 bpm or more requires medical attention. Causes may be unrelated to running and include heart rhythm irregularities, coronary artery disease, hyperthyroidism and infections.