"Morbidly obese" is a descriptive term rather than a specific medical diagnosis. You'll get different definitions depending on who you ask. A good general guideline is that you weigh noticeably more than the minimum weight that would adversely affect your health. Morbidly obese women often want to lose weight, but their size makes most kinds of exercise too hard on their bodies. However, there are a few exercises that even the extremely overweight can succeed with, beginning the long journey toward a healthy weight.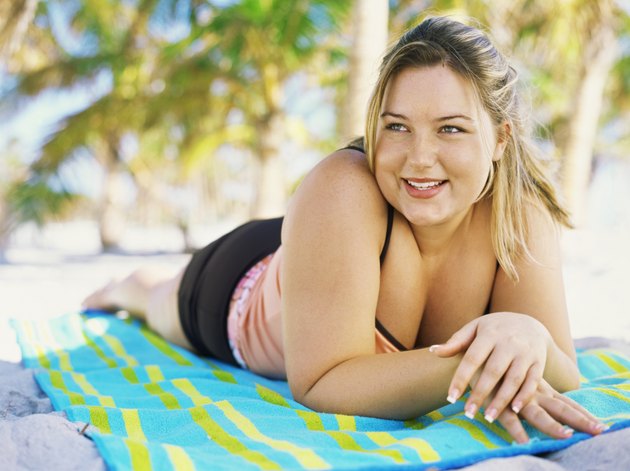 Walking
A daily walk is a low-impact workout that burns more calories the heavier you are. A 300-lb. woman walking at a moderate pace will burn as many calories as an athletic woman jogging the same distance. According to Dr. Mehmet Oz in "You: The Owner's Manual," you can get results from any walk that helps you break a light sweat. If you find even walking is hard on your legs at first, you can use a walking stick to help you along on your earliest workouts.
Water Exercise
Fat is less dense than water. Since one challenge of exercising for morbidly obese women is the weight of their fat, exercising in water can be an ideal choice because the buoyancy supports much of the weight. You can find many different water exercise options at your local gym or community pool. Some examples include water aerobics, walking in water, swimming laps and even practicing tai chi or yoga while partially submerged. For women who would rather not be in front of men in their bathing suits, some facilities offer single-sex classes throughout the week.
Tai Chi
Tai chi is a form of exercise and meditation that originated in China. The practice involves moving through a series of martial arts postures that improve balance, burn calories and strengthen your muscles. Moving so slowly makes this exercise workable for the overweight, seniors and other people whose bodies aren't up for a more aggressive workout options. If you're unable to stand for an extended period, you can even benefit from practice while sitting in a chair.
Strength Training
Strength training burns fewer calories than cardio workouts but still carries health and weight-loss benefits. Obese people often find they have surprising success with strength training because they're used to carrying and lifting the heavy weight of their bodies all day long. A course of weight training can also strengthen the muscles that support your hips, knees and ankles -- joints that often have trouble when severely overweight people begin to do exercises that require standing up. According to Miriam Nelson in "Strong Women Stay Young," strength training is especially important for women, as the weights can help strengthen your bones to slow the onset of osteoporosis in your later years.