Al dente, which means "to the tooth" in Italian, is a degree of doneness applied to pasta, rice and vegetables that means the food should be cooked until it retains enough firmness to offer a little resistance to the bite. The center of al dente pasta should not be hard, too soft or mushy. The recommended method for cooking lasagna noodles al dente is slightly different than the method for cooking other types of pasta, such as spaghetti.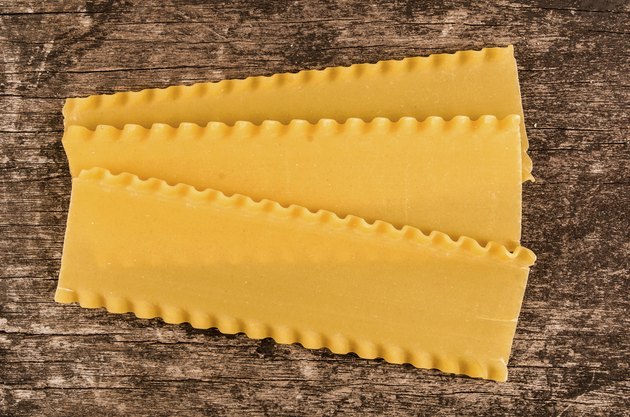 Step 1
Boil 6 qt. of water, with the added salt and 2 tbsp. olive oil, in a large pot over heat set to high. While adding oil to the water to boil pasta is not recommended since it prevents sauce from adhering to the noodles, the long, flat lasagna noodles are an exception to that rule. Olive oil helps prevent the lasagna noodles from sticking together.
Step 2
Add the lasagna noodles to the boiling water, stir the noodles and allow the water to return to a boil. Your recipe may call for a 2-lb. package of lasagna noodles or a portion of the package.
Step 3
Cook the lasagna noodles for about eight to 10 minutes, semi-covered, and stir the noodles a few times.
Step 4
Test the doneness of the noodles by removing a lasagna noodle before the cooking time ends and biting into it. The whitish area in the center of uncooked pasta should fade when the pasta is done.
Step 5
Drain the al dente lasagna noodles in a colander to remove the water or remove the noodles from the water, one or a few at a time. You can try removing the cooked lasagna noodles from the hot water with a wire skimmer and placing them in a bowl of ice water until they are chilled. Then stack them in layers, separated by damp kitchen towels, on a baking sheet until it is time to assemble the lasagna dish.
Things You'll Need
Lasagna

Large pot

Water

Salt

Olive oil

Colander
Tip
Choose a whole wheat pasta as part of a healthful diet.