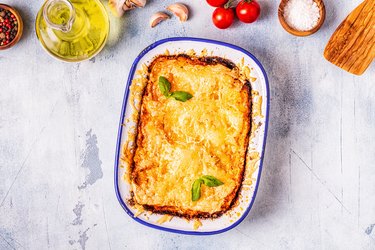 Assembling lasagna the day before you need it makes it easy to get a delicious meal on the table after a long day. It's also possible to freeze the lasagna to use several weeks later. Make-ahead meals are a great convenience.
Tip
You can assemble lasagna and cook it the next day. However, be sure to cook it within 36 hours.
Questions About Make-Ahead Lasagna
In an interview with LIVESTRONG.com, Erica Mouch, RDN, CD, of Erica Mouch Nutrition, discusses issues related to make-ahead lasagna. "Assembling lasagna the day before you need it is a time-saver, and it won't have a negative effect on the noodles," she says. "Uncooked lasagna can last 36 hours in the refrigerator, but if you don't plan to cook it within 12 hours, shorten the boiling time a bit when cooking the noodles. Take the lasagna out of the refrigerator an hour before baking to ensure it cooks evenly."
What about cooking the lasagna ahead of time? "Once cooked, it will keep in the refrigerator for 3 days. You can also freeze it after cooking to use another time. When you need it, thaw it the day before in the refrigerator before reheating," Mouch advises.
Lasagna can sometimes be either too dry, or too runny. "To prevent dryness, cover with foil during baking, but remove later to brown the cheese. If you drain the noodles well before assembling the lasagna, it can prevent the dish from being too runny: Another option is to use no-boil noodles," she states.
Make Ahead Spinach Lasagna
1 10-ounce box spinach, frozen
1 tablespoon. Italian seasoning
2 eggs, beaten
1 15-ounce container ricotta cheese
1 6-ounce container parmesan cheese, shredded, divided
9 lasagna noodles, uncooked
1 3-pound jar spaghetti sauce
1 6-ounce package Mozzarella cheese, grated, divided
1/2 cup water
Preheat oven to 350 degrees Fahrenheit. Coat a 9-inch by 13-inch baking pan with oil.
Thaw the spinach and drain the liquid.
In a bowl, mix together spinach, Italian seasoning, eggs, ricotta cheese and 2 tablespoons of parmesan cheese.
Put 3/4 cup of spaghetti sauce in the bottom of the pan. Top with three uncooked noodles. Next, cover noodles with 1/3 of spinach mixture and sprinkle with mozzarella cheese. Top this layer with 3/4 cup spaghetti sauce. Layer with noodles, spinach mixture, mozzarella cheese and sauce two additional times.
Put the remaining three noodles and spaghetti sauce on top. Remove all the sauce from the jar by putting in the 1/2 cup water and shaking it.
Spread the remaining mozzarella cheese and parmesan cheese on top. Cover the pan with foil.
Put the lasagna in the refrigerator to cook the next day, or cook it immediately for 60 to 75 minutes until cheese is lightly browned. Cook uncovered for the last 10 minutes.
How to Make Healthy Lasagna
Lasagnas with meat can be made of ground beef, ground turkey or a combination of beef and Italian sausage. Meatless lasagnas often feature spinach, but sometimes they include other vegetables as well.
Red meat is associated with a higher cancer risk, according to the American Institute for Cancer Research. Because of this negative health effect, if you make lasagna often, opt for recipes that feature either ground poultry or vegetables. An additional advantage of lasagnas made solely of vegetables is that they're very low in fat.
Another way to make a healthier lasagna is to use whole grain pasta in it, rather than pasta made with white flour. Whole grains contain fiber, which is linked to several health benefits.
To get an idea of what a very nutritious lasagna recipe looks like, the American Heart Association has an excellent one. It's low in salt, and is made with extra virgin olive oil, whole grain noodles and several vegetables, including spinach, kale, squash and cannellini beans.