Garfield the Cat's perennial favorite food, deep-dish Italian lasagna, takes a lot of time to prepare. From boiling the noodles to searing the meat and combining the cheese, eggs and spinach, depending on your favorite ingredients, lasagna can take up to an hour or more to be assembled before cooking in the oven. Preparing it the night before and baking it the next day exposes your family to the possibility of food-borne illness unless you take precautions.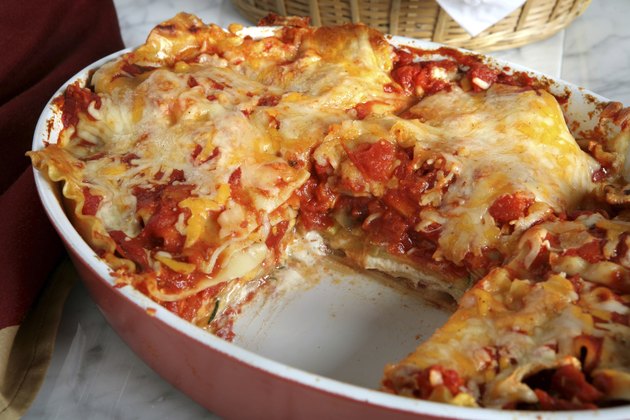 Undercooked Meat
You have to fully cook all the meat for your lasagna if you don't intend to bake it right away. The most recent widespread trichinosis outbreak in the United States, reported in the June 1992 issue of the "American Journal of Epidemiology," occurred on July 14, 1990, causing 90 people to become ill. Outbreaks since then, according to the Centers for Disease Control, including 13 cases in 2009, have been limited and usually involved wild game rather than commercially butchered and prepared meats. You should cube and sear whole roasts, then simmer the meat for at least 20 minutes, chop sausage or ground meat, especially if made from wild game, and stir-fry it until it is evenly brown before using it in next-day lasagna. Ground meat in a single large chunk, such as meat loaf, must cook to an internal temperature of 160 degrees Fahrenheit as registered with a meat thermometer for safe use. Pork and beef roasts must cook to 145 degrees Fahrenheit.
Undercooked Eggs
If your lasagna recipe includes raw eggs, omit them entirely or do not add them until you put your lasagna in the oven the next day. Eggs in most lasagna recipes bind the ricotta or cottage cheese and the spinach or other greens, if any. Substitute sour cream instead, for a safer casserole. Besides the risk of salmonella, the pasta may absorb the egg, reducing its effectiveness as a binding agent. Any casserole containing raw egg must cook to 160 degrees as measured with a meat thermometer to be considered safe to eat.
Other Ingredients
Minced garlic, chopped onion and other classic lasagna ingredients add moisture and flavor to the dish. Rinse all fresh vegetables under cold running water before use and blanch them in boiling water for two minutes to reduce the risk of Salmonella enteritis. Bring any canned vegetables to a rolling boil in their own liquid before adding them to your lasagna.
Soggy Pasta
Most next-day lasagna recipes recommend using uncooked noodles. The noodles absorb the liquids from the sauce, ricotta or cottage cheese and any spinach or other greens, leaving them fork-tender once you heat the lasagna all the way through.
Preparation
Lining the baking dish with foil allows easy removal and cleanup the next day. The lasagna noodles will not stick to the bottom of the pan if you cover it with a layer of meat sauce first. The lasagna should be refrigerated overnight, below 40 degrees Fahrenheit. If you reserve 2 cups of sauce to pour over your lasagna the next day and cover the casserole dish with foil before placing it in the oven, the top layer of noodles softens during cooking.