As the old adage goes, "beauty is in the eye of the beholder." When it comes to our own bodies, however, we are often our own worst critics. In fact, many individuals exercise solely to achieve certain cosmetic goals, says the American College of Sports Medicine. Those who want to get rid of fat on their thighs must have a basic understanding of caloric balance, fat loss, and be willing to set reasonable expectations.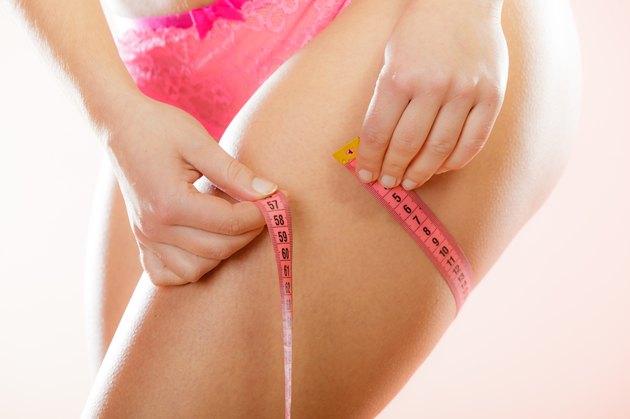 Understanding Calorie Balance
When it comes to fat loss, the calorie is king. In fact, the more calories that are burned in a day, week, or month, the more fat loss will occur -- not only on the thighs, but over the entire body. According to the Centers for Disease Control and Prevention, individuals who want to lose one pound of fat must achieve a calorie deficit of 3500 calories. For best results, consider the use of both diet and exercise to achieve optimal long-term results.
Understanding Fat Loss
While it can be tempting to try to get rid of fat solely on the thighs alone, this is not necessarily an option. In fact, Yale Scientific reports that spot reducing -- in which exercisers focus on one specific body part in an attempt to eliminate fat in this locale only -- is quite difficult, it not impossible. Instead, during exercise, most individuals lose a generalized amount of fat over their entire bodies. Those who do achieve a deficit of 3500 calories in a week, for example, will not necessarily see a pound of weight loss on their thighs, but rather across their whole physique.
Toning Thighs
While cutting fat directly from the thighs may not be an option, exercisers can still improve the appearance of this body part through resistance training. Resistance training builds muscle mass, and provides a more taut and toned appearance to targeted muscle groups. Those who want to focus on their thighs should consider lunges, an exercise in which individuals take large, exaggerated steps, lowering the rear knee towards the floor with each forward progression. Aim for two to three sets of 10 to 12 repetitions of this exercise for best results in building muscle mass and promoting greater muscle tone, says ACSM. In the gym, the use of hip adductor and hip abductor machines, in addition to lunges, can help to shape thighs.
Setting Reasonable Expectations
Setting reasonable expectations regarding fat loss on thighs is crucial for those who are hoping to see fast results. When it comes to fat loss, the larger the calorie deficit, the faster the fat will start to melt away -- producing optimal long-term results. The American College of Sports Medicine encourages most exercisers to aim for a total of two pounds of fat loss per week. Those who include resistance training in their routine should expect to see some generalized fat loss over the body within four to six weeks, says ACSM.