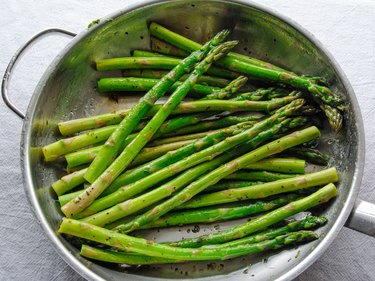 In the freezer aisle of any grocery store, you will find frozen asparagus. This is a convenient way to buy seasonal produce and get you to eat more vegetables. Like other frozen vegetables, you have a few options when it comes to heating frozen asparagus.
Fortunately, asparagus is an easy vegetable to cook with. Many asparagus recipes are simple and require just a few ingredients. You should consume more asparagus because it is nutritious as well as effortless.
Asparagus Nutrition and Benefits
Asparagus is a popular green vegetable. It is a tasty source of many vitamins and minerals. According to the USDA, one cup of cooked asparagus contains:
40 calories
7.4 grams of carbohydrates
4.3 grams of protein
0.4 grams of fat
3.6 grams of fiber
76 percent daily value (DV) of vitamin K
18 percent DV of vitamin E
15 percent DV of vitamin C
10 percent DV of vitamin A
10 percent DV of zinc
Asparagus is also a decent source of iron and potassium. Since it is low in calories and carbohydrates, but surprisingly high in protein, asparagus is a popular option among people following a low-calorie and low-carb diet.
According to the American Institute for Cancer Research, asparagus also contains beta-carotene and folate. These nutrients may reduce the risk of some cancer. They recommend consuming asparagus if it is a vegetable you enjoy.
Though there are not many negative side effects of consuming asparagus, this vegetable may affect the smell of your urine. Some people may also be intolerant to asparagus.
How to Heat Frozen Asparagus
Before cooking, make sure your asparagus is trimmed. The stems of asparagus are often thick and hard to cut and bite through. Frozen asparagus may be pre-cut. If not, cut the stalks into the desired length.
Frozen asparagus is often frozen prior to cooking, so you must cook the asparagus thoroughly so that it heats in the middle. One way to do this is with sauteed asparagus.
To make sauteed asparagus, you will need a skillet or frying pan. You will also need cooking oil, frozen asparagus and spices of your choice, such as garlic. Over medium-high heat, add the ingredients and cook for 10 to 15 minutes depending on the desired level of tenderness and the thickness of the asparagus. Stir occasionally to prevent the sauteed asparagus from burning.
You can also roast asparagus in the oven. Cleveland Clinic recommends this cooking method. Preheat your oven to 420 degrees Fahrenheit and place the asparagus on a baking sheet. Season with olive oil and spices. Roast the asparagus for 15 to 20 minutes.
Asparagus Recipes are Simple
If you are on a time crunch, you can try to modify these recipes to be microwave-friendly. Place the frozen asparagus in the microwave. Cover and heat until the asparagus is cooked through the middle.
Asparagus recipes are simple, so give these cooking methods a try. Frozen asparagus is a versatile vegetable that you can add to a medley of roasted or sauteed vegetables. It is also a delicious way to get more fiber and other nutrients.