Asparagus makes a flavorful accompaniment to meat dishes, salads, soups and casseroles. It's healthy, too; half cup of frozen asparagus, which is a typical serving size, contains 30 percent of your daily recommended vitamin C amount, according to the U.S. Department of Agriculture. Fresh asparagus is available in most grocery stores all year, but if you can't find fresh, frozen is a suitable alternative.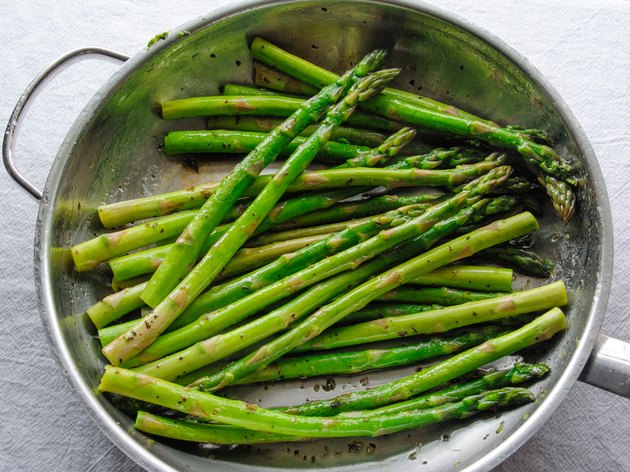 Stir Frying
Step 1
Select a bag of frozen asparagus that has already been cut into tips and pieces. Cut your own asparagus into 1/2-inch tips and pieces prior to freezing if you freeze your own.
Step 2
Heat 1 tbsp. of olive oil in a skillet or wok over medium-high heat.
Step 3
Add the frozen asparagus pieces to the skillet and and stir constantly with a spatula for three to five minutes, or until the asparagus is tender but still slightly crisp.
Step 4
Remove the skillet from the heat and scoop the asparagus out onto a plate with your spatula to serve.
Steaming
Step 1
Add a few inches of water to a pot, and place a steamer basket inside. Place the pot and basket on your stovetop over high heat and bring the water to a boil.
Step 2
Place the frozen asparagus into the basket and place a lid on top of the pot.
Step 3
Steam the asparagus for a few minutes, until firm but tender.
Step 4
Remove the pot from the heat and use tongs to remove the asparagus from the steamer basket. Serve immediately.
Things You'll Need
Olive oil

Skillet or wok

Spatula

Pot

Steamer basket

Tongs
Tips
Add lemon juice, garlic or herbs to the water when cooking for added flavor. Freeze your own fresh asparagus by blanching it in boiling water for one or two minutes, cooling in ice water, draining and placing in an airtight freezer bag. Frozen asparagus from the store will already have the stringy end trimmed off. Trim the end prior to blanching if you freeze asparagus yourself.