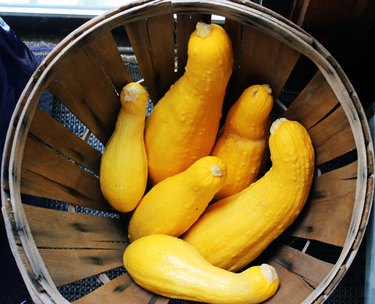 Baked yellow squash makes a hearty and healthy meal at a low calorie cost. You can accentuate the mild flavor of baked yellow squash by adding your choice of tasty toppings such as low-fat cheese, crispy bread crumbs and savory seasonings. Here are some ways to prepare healthy yellow squash recipes.
Tip
Turn summer squash into a delicious baked yellow squash recipe by mixing it with other quick-cooking vegetables and topping it with cheese, breadcrumbs or other savory seasonings.
Available in scalloped, pattypan, crookneck or straightneck varieties, with either smooth or lumpy skin, yellow summer squash is low in calories and high in potassium, vitamin C and beta carotene. According to the USDA, a 1-cup serving has only 18 calories and counts as a serving of vegetables. When making healthy yellow squash recipes, look for small, firm, bright yellow squash with a length of 8 inches or less, as large, mature squash tends to be dry and stringy.
Start by Cleaning the Skin
First, scrub the squash thoroughly, then cut off the stem and blossom ends. For any healthy yellow squash recipes, don't peel the squash. Because summer squash consists primarily of water, most of the color, flavor and nutrients are in the skin.
Cut It to Size
Cut the squash into slices about 1/2 inch thick. Alternatively, slice the squash in half lengthwise, or cut it into bite-sized chunks. If the squash is very small, you can leave it whole.
Prepare Your Pan
To make the best baked yellow squash, coat a baking dish lightly with nonstick cooking spray or olive oil, then place the squash slices or chunks in the dish. If you cut the squash in half lengthwise, arrange the halves with the cut side facing up. If you plan to make sauteed yellow squash, you can just spray a frying pan instead of a baking dish.
Add Complementary Vegetables
Add more vegetables, if desired, such as chopped onion or green pepper, diced tomato or minced onion to suit your preferences. For added variety, you can combine yellow squash with other types of summer squash such as green or yellow zucchini.
Get Creative with Seasonings
Drizzle the mixture lightly with olive oil, then season the dish to taste with salt and pepper, and fresh or dried herbs such as oregano, rosemary, thyme or basil. If you're making sauteed yellow squash, just turn up the heat in your saute pan and let the mixture saute until the squash and any other vegetables are softened a bit.
It's All in the Toppings
If you're making baked yellow squash, top the squash with grated cheese, if desired. You can use cheddar cheese, but if you prefer a lower-fat dish, mozzarella, Monterey Jack or Parmesan are better choices. You can also use a combination of cheeses, or combine shredded cheese with equal parts bread crumbs. For an Italian-style dish, cover the squash with tomato sauce instead of cheese and bread crumbs. Then, during the last four or five minutes of cooking time, sprinkle a small amount of grated cheese over the top.
Bake It Until Tender
For baked squash, bake it in an oven preheated to 350 degrees Fahrenheit for 30 to 35 minutes. If you've added breadcrumbs and want them brown and crispy, turn on the broiler just before you remove the squash from the oven. Watch the dish closely to prevent burning, because crisping the top usually only requires one or two minutes.
Serve It Up
Remove from the oven or the stove top and and serve the baked or sauteed yellow squash hot. Both baked and sauteed yellow squash are perfect for a side dish, or add some chicken or fish for a healthy meal.
Things You'll Need
Baking dish

Nonstick cooking spray or olive oil

Assorted vegetables (optional)

Pepper

Fresh or dried herbs

Salt

Grated cheese (optional)

Breadcrumbs (optional)

Tomato sauce (optional)
For slightly larger squash, you can cut the squash in half lengthwise, then scoop out the seeds. Fill the scooped out area with vegetables and seasonings, top the squash with cheese or breadcrumbs as desired and bake.
Summer squash is highly perishable. Place the squash in a plastic bag, then store it in the refrigerator and use it within five days.