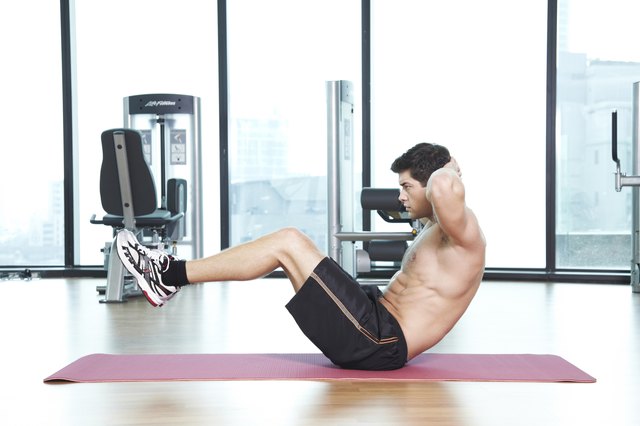 Somewhere between pipe dreams and excuses lies a workout reality: you can tone your stomach and see the results of your efforts sooner than you imagined. If you are willing to commit to a fitness program combining a healthy diet with both aerobic exercise and strength-training, you can absolutely craft a stronger, fitter you -- head to toe -- toned stomach included.
Not Minutes, Not Years
Go online to any video-sharing service and you can quickly find some variation of a five-minute ab workout to tone your stomach. While five minutes of core-strengthening exercises will help to sculpt and define your abdominal muscles, it's going to take longer than five minutes to see results. Overnight instantaneous results may be desirable, but they aren't realistic and can do more harm than good. According to the American Council on Exercise your efforts to suddenly and radically change your exercise habits can backfire, leading to burnout and possible injury.
Toner in Weeks
According to ACE, the best way to tone your stomach is to start small, making minor changes to your diet and gradually increasing your physical activity to include strength-training twice a week and 150 minutes of moderately intense exercise. This formula of slow and steady effort will tone and flatten your tummy in a matter of weeks, while simultaneously defining and strengthening your hips and thighs.
Little By Little, Day By Day
Sure, it is hard to commit to a multi-week fitness program. That's why ACE recommends you focus on making fitness a daily proposition. Make one minor change in diet like cutting out sugary drinks or trying smaller portion sizes. Keep changing things up, including your workouts, not only to give your muscles a chance to rest and rebuild, but to ward off boredom and power through exercise plateaus. Twice a week exercise your core. One time do an ab workout on the floor, the next try working your stomach muscles standing up.
Track Your Progress
A toner stomach will come from the good choices you make day after day. One way to keep yourself motivated to stay on course is by recording your progress. You can invest in a formal 12-week diet and exercise planner or just pick up a blank journal, pen and measuring tape. Every day write down one positive change you made to improve your health and fitness. Record a new exercise you tried or that piece of chocolate you managed to avoid. Once a week write down your leaner, toner measurements.