If you have diabetes, choosing the right foods in the right amounts and eating them at the right time can become challenging and even overwhelming. Although salads are a healthy way to increase your vegetable intake, what you put on your salad can make the difference between a healthy meal and a high-calorie and fat-loaded meal. Salad dressings add a lot of flavor to salads, but it is important to know how to choose a healthy salad dressing to stay healthy with diabetes.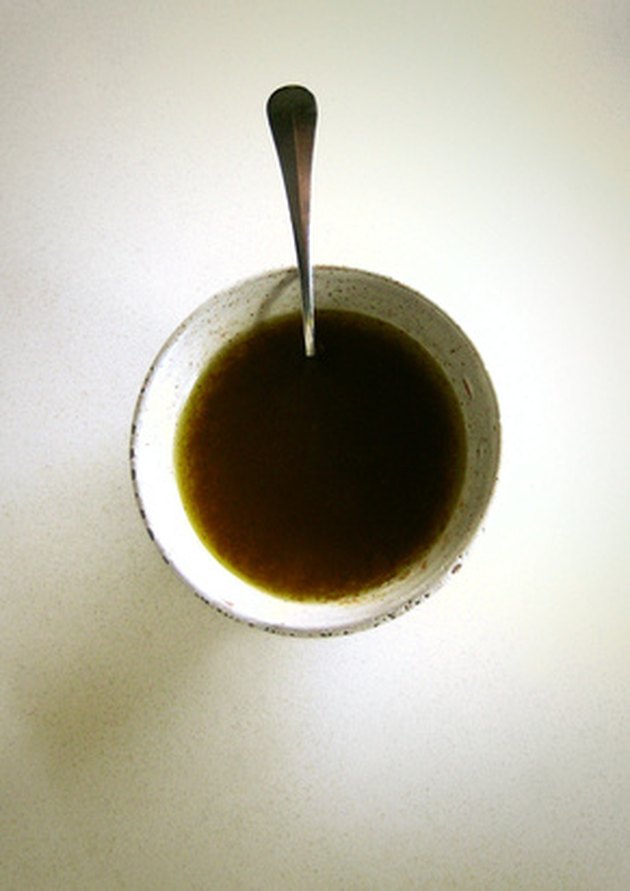 Carbohydrate Content
To keep your blood sugar levels under control with diabetes, carbohydrate intake is your main concern. Mainly found in grains, sugar, starchy vegetables, fruits and some dairy, carbohydrates are broken down into sugar and cause your blood sugar levels to rise after being absorbed. Although salad dressings usually provide few carbohydrates, commercially prepared salad dressings, especially low-fat and low-calorie versions, may contain added sugar. Some "light" salad dressings can contain up to 5 g of carbohydrates per tablespoon, which can quickly add up, depending on the amount you use. When choosing a salad dressing, have a look at the carbohydrate content and avoid the ones containing added sugar.
Type of Fat
The type of fat used to make a salad dressing have a big influence on how it impacts your blood cholesterol levels and cardiovascular risk. Prioritize salad dressings made with monounsaturated fat-rich fats, because of their ability to lower LDL cholesterol levels. Olive oil, macadamia oil, avocado oil and canola oil are examples of oils rich in monounsaturated fats. Look at the label to know what type of fats are present in your salad dressing.
Amount Used
The amount of salad dressing you drizzle on your salad is also an important factor to consider. Salad dressing are dense in calories and high in fat, and adding too much could result in weight gain or hinder your weight-loss efforts. Limit your serving of salad dressing to no more than 1 to 2 tbsp., or the equivalent of 50 to 100 calories.
Make Your Own Vinaigrette
An easy way to prepare a healthy salad dressing is to mix equal parts of a monounsaturated fat-rich oil, such as olive oil or avocado oil, with any of your favorite vinegar, such as balsamic vinegar, red wine vinegar or white vinegar. Add salt and pepper to taste, drizzle on your salad and enjoy.