Bruises occur when blood vessels near the skin's surface are broken. Blood leaks out of the blood vessels and appears as a red, purple or black mark. The body eventually reabsorbs the blood, and the bruise disappears. Bruises can be caused by a blow or an injury. Certain vitamins and supplements such as fish oil and vitamin E may also cause bruising of the skin.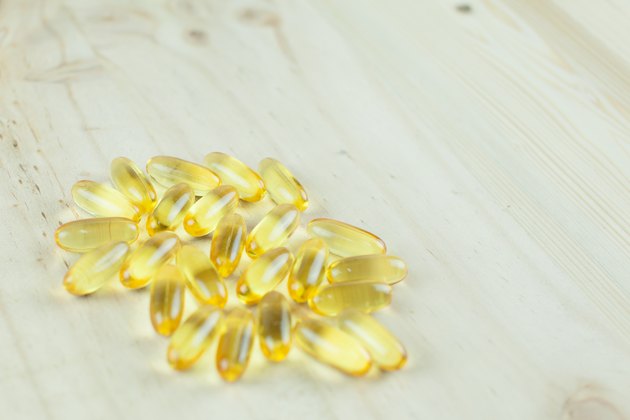 Fish Oil
Fish oil is an important source of the omega-3 essential fatty acids, eicosapentaenoic acid -- also known as EPA -- and docosahexaenoic acid -- more commonly called DHA. Fish oil can be obtained from eating oily fish such as mackerel, herring and salmon or by taking a supplement. Fish oil may be useful for a number of health conditions such as depression, high blood pressure, age-related macular degeneration, menstrual pains and asthma. However, fish oil has a blood-thinning effect in the body and may increase your risk of bruising.
Ginkgo Biloba
The leaves of the herb ginkgo biloba are generally used to make extracts that are used as medicine. Ginkgo may be useful for many health conditions including Alzheimer's disease, vertigo, mood disturbances, headaches and ringing in the ears. According to the Mayo Clinic, due to its blood-thinning properties, ginkgo may increase the risk of skin bruising.
Vitamin E
Vitamin E is an essential nutrient found naturally in green leafy vegetables, eggs, vegetables oils and wheat germ. Vitamin E is also available in supplement form. This vitamin may be useful for conditions such as heart disease, arthritis, burns, Parkinson's disease, cataracts and age-related macular degeneration. However, the American Pregnancy Association also points out that an overdose of vitamin E can cause easy bleeding and skin bruising.
Prenatal Multivitamins
During pregnancy, a woman's need for certain vitamins and minerals -- such as iron, folic acid and calcium -- increases, because these nutrients are essential for fetal development and growth. Prenatal multivitamins are designed to provide these additional nutrients. According to Drugs.com, an overdose of prenatal multivitamins can cause easy bruising of the skin along with other symptoms.