Approximately 90 percent of hair is in the growth phase, while 10 percent is in a resting or dormant stage at any given time. After the resting phase, hair strands fall out and new ones grow in. Daily hair loss of around 50 to 100 hairs per day is typical. Millions of people suffer from excess hair loss, which may be due to illness, genetics or poor nutrition. Consuming inadequate amounts of protein can be a cause of excess hair loss.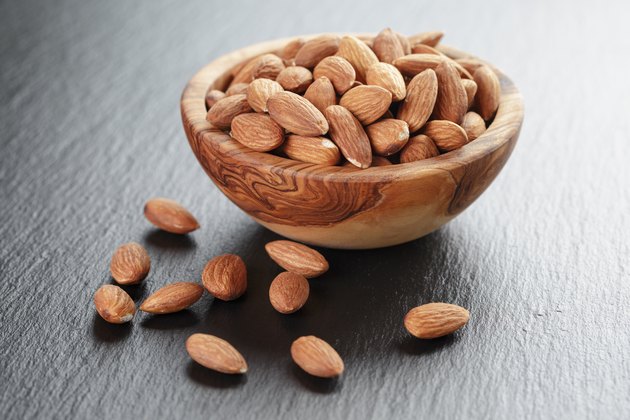 Hair Growth
Hair is made from protein. When the body does not get enough protein, it rations it by shutting down the production of non-essential protein, including hair growth. Hair loss is noticeable about two to three months after protein intake drops below requirements. Hair growth will begin again once protein intake meets needs.
Protein Requirements
The Centers for Disease Control and Prevention notes normal recommendations are about 10 to 35 percent of total daily calories from protein. This is about 46 to 56 g of protein for adults depending on caloric needs. Healthy individuals consuming a typical American diet do not have to be concerned about protein intake, as most get more than enough.
Sources of Protein
Protein can be found in most foods including: dairy products, meat, poultry, fish, eggs, nuts, seeds, beans, grains, soy products, and small amounts in vegetables and fruits. A 1 oz. serving of foods from the protein group provides around 7 to 8 g of protein. Based on My Pyramid, a 1 oz. serving equivalent includes: 1 oz. meat, fish or poultry; 1 egg; 1 tbsp. peanut butter; ½ oz. nuts or seeds; or ¼ cup dried beans and peas.
Other Causes of Hair Loss
High levels of vitamin A, low levels of iron, malnutrition due to eating disorder, thyroid disease, high fever, infection, stress or just simply losing weight can cause hair loss. Hair loss can most often be stopped and reversed once treated, so see your doctor if hair loss continues or you begin to notice areas of thinning.