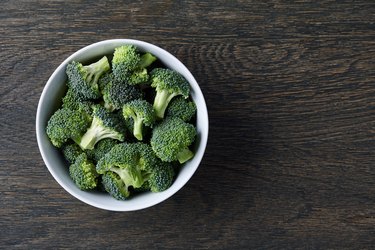 Forget pulling out the pots and pans or turning on the oven. Slow cooker broccoli is the ultimate set-it-and-forget-it side dish that will delight your taste buds and up your nutrition game. Just be sure to keep it light and healthy.
Roasted Slow Cooker Broccoli
Roasting is one of the tastiest ways to prepare this cruciferous veggie that's rich in fiber, minerals and vitamins C, E, K and folate. Done right, the stalks stay crisp-tender and juicy, and the flowers get slightly charred with a delicious toasty flavor.
Typically you would do this in your oven, but your slow cooker can roast vegetables, too. And you don't have to get out pots and pans and heat up the house — a big bonus in summertime. Cleanup is also super simple.
Start with about 2 pounds of broccoli crowns. Wash, trim and cut them into bite-sized florets. Place them in the slow cooker with a tablespoon of olive oil and salt and pepper to taste. Toss to coat. Cover the slow cooker and cook on high for two to two-and-a-half hours, stirring once every hour. Test the broccoli occasionally, and turn off the slow cooker when it's cooked to your desired tenderness.
If you want to spice things up, you can add some minced garlic, chili flakes, lemon juice, paprika, cumin or any number of other flavors. You can also add other veggies to the mix, such as red bell peppers, carrots and onions.
Slow simmering is what slow cookers are known for. Tossing some broccoli into the slow cooker with a small amount of liquid and letting it simmer for a few hours produces sweet and flavorful florets that can be paired with any main dish. Cooked this way, broccoli will be more tender than roasting because of the addition of liquid.
Any liquid will do, but water isn't very interesting. Low-sodium vegetable broth, a little olive oil, herbs and spices will add richness to your green veggies. You can also give them an Asian flare, adding garlic, ginger and sesame oil. And don't stop with just broccoli. Throw some of your other favorite veggies in there and even a protein, such as tofu or chicken, to make it a one-pot meal.
Tip
Keep your broccoli dish heart-healthy by avoiding excess sodium from high-sodium broths and going easy with the salt shaker. The American Heart Association recommends a maximum of 2,300 milligrams of sodium per day; however, an even lower limit of 1,500 milligrams is ideal for most adults.
Healthy Slow Cooker Recipes
If you do a browser search on "Crock-Pot broccoli" or "slow cooker broccoli," you'll come up with cheese. A lot of cheese. Broccoli-cheese soup, broccoli-cheese casserole and so on. Cheese is delicious, and in moderation, it's good for you. However, drowning your broccoli in cheese does not make for a healthy meal that will be kind to your waistline. Add a little cheese if you want, but keep it light.
Slow cooker, broth-based soups with broccoli are packed with nutrients and low in calories. They make a satisfying meal no matter the weather outside. In addition to your broccoli, throw in chopped fresh tomatoes, carrots, kale, celery, green beans, zucchini and white beans.
Pour in some low-sodium vegetable broth, chopped garlic, salt and pepper. Add any other spices that please your palate. Set it and forget it, and come home to a healthy bowl of hot soup you can feel good about eating.
A Healthier Michigan offers a slow cooker broccoli soup with ginger and turmeric that starts with a base of leeks sautéed in a bit of butter. Use olive oil instead for an option lower in saturated fat. Transfer the leeks to the slow cooker and add broccoli, ginger, turmeric, a little sesame oil and vegetable stock. Cook on low for three to four hours; then blend to your desired consistency.