While a steady diet of steak is not a healthy choice – your calories and your risk for some cancers increase when you eat steak, according to the Harvard Family Health Guide -- a steak dinner or sliced steak in salads and fajitas makes a tasty, if occasional, treat. The pan-sear-then-bake method works best for thick steaks. Noted chef Julia Child explained that the outside of a broiled or pan-seared steak often gets blackened, tough and dry by the time the inside is finished cooking. She suggested the sear-then-bake method for any thick piece of meat.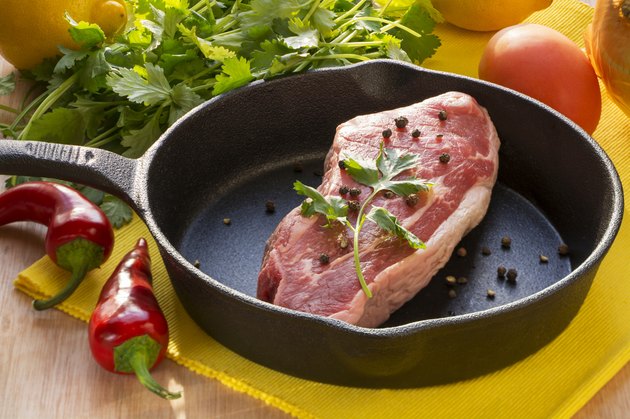 Step 1
Remove the steak from the refrigerator and allow it to reach room temperature. Doing so will allow it to cook quickly and evenly.
Step 2
Preheat the oven to 500 degrees, and heat 1/2 tbsp. of oil in the skillet on medium high heat. Food Network chef Alton Brown sets the oven temperature high so the time the steak spends in the oven is very short.
Step 3
Rub 1 tbsp. of oil over the steak and sprinkle salt and pepper on both sides. Coarse kosher salt, with its large crystals, provides a saltier taste than regular table salt.
Step 4
Cook the steak for 30 seconds without moving it in the skillet. Turn it and cook for another 30 seconds
Step 5
Place the skillet in the preheated oven for two minutes for a medium rare steak. Turn the steak and cook for another two minutes. Add another minute to each side for a medium-cooked steak.
Step 6
Place the steak on a warm plate and cover loosely with foil. Let it rest for two minutes so the juices can be reabsorbed into the meat.
Step 7
Serve the steak whole or sliced into thin pieces against the grain. If you would like, sprinkle the steak with chopped chives or parsley, a small amount of minced garlic, or a mushroom-mustard sauce -- all flavors that have an affinity with beef.
Things You'll Need
1 steak, at least 1 ½ inches thick

1 1/2 tbsp. oil

Salt and pepper

10 to 12-inch oven-safe skillet, such as cast iron

Tongs or spatula

Plate or platter

Foil

Knife

Chopped herbs, garlic or sauce, optional
Tips
Julia Child seared her steaks in the broiler instead of in a pan, and placed them in a 375-degree oven for 15 to 20 minutes.
Warning
Registered dietitian Karen Collins, writing for the American Institute of Cancer Research, cautions that anything over a recommended three oz. serving of meat increases the amount of fat and calories substantially. To mitigate the amount of cancer-causing chemicals that result from meat cooked at high temperatures, the Purdue University Animal Sciences website recommends marinating meats in anti-oxidant sauces, such as those containing vinegar or citrus juice.