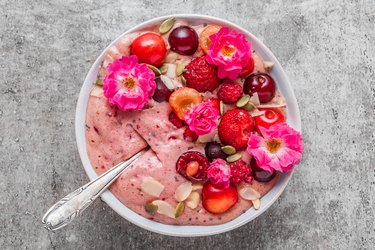 The 4 Day Diet is a book published in 2009 by Dr. Ian Smith. This diet focuses on eating in phases, each allowing different foods so that individuals can lose weight without getting bored.
Ian Smith Diet
Dr. Ian Smith is a high-profile medical doctor who has worked as a medical expert for VH1's Celebrity Fit Club and as a contributor to the television show Rachael Ray. He was also appointed to the President's Council on Fitness, Sports, and Nutrition by President Obama, notes Texas A&M University.
In addition to The 4 Day Diet, Dr. Smith's diet books and programs include the Extreme Fat Smash Diet and The Take-Control Diet.
Warning
Do not expect The 4 Day Diet to be a quick fix. Maintaining a healthy weight involves long-term healthy eating and exercise.
The 2015-2020 Dietary Guidelines for Americans published by the U.S. Department of Health and Human Services recommends eating a variety of nutrient-dense foods from all of the food groups, including vegetables, fruits, grains, low-fat or fat-free dairy, proteins and oils. In addition, limit consumption of trans and saturated fats, added sugar and sodium.
The 4 Day Diet consists of multiple four-day phases, or modules, each of which allows you to eat different types of food. Each module lasts for four days and you can customize your program. This means that after you complete the first two modules, you do not have to do each four-day phase sequentially. You can select the one that works best for where you are in your weight loss journey. Here is a list of the phases of the diet, according to the book's publisher:
The induction module is for detox and cleansing.
The transition module reintroduces all food groups.
The protein stretch module prevents weight loss plateaus.
The smooth module allows you to eat pizza, fries and other previously forbidden foods.
The push module is a stricter eating plan, described as "the sprint — you're almost there."
Pace is a module for relaxing and catching your breath.
Vigorous is the module to help you lose those last few pounds.
Tip
Exercise is an important component of any successful weight loss plan. In addition to following the diet, be sure you are exercising each week. A study in the April 2015 issue of the Journal of Diabetes and Metabolic Disorders showed that a combination of diet and exercise was more effective for weight loss than diet alone.
According to the U.S. Department of Health and Human Services Physical Activity Guidelines for Americans Summary, adults should get at least 150 to 300 minutes of moderate-intensity exercise or 75 to 150 minutes of vigorous-intensity exercise each week.
Create a Menu
One challenge of The 4 Day Diet is that each phase has different food restrictions and recommendations for you to work into your meal plan. During the induction module, for example, you will focus on detox by eating mostly fruits, vegetables, yogurt, legumes and brown rice, advises Dr. Smith in an interview with the Christian Broadcasting Network. Despite the limitations during this phase of the diet plan, you can still create a delicious and satisfying menu.
For lunch, try a delicious salad such as our Citrus Greens Salad with baby greens, mushrooms, carrots and cucumbers. Another healthy option to try is this LIVESTRONG.com recipe for Crunchy Kale Salad. If you prefer a warm meal, consider grilling or roasting your favorite vegetables and eating them with a side of brown rice.