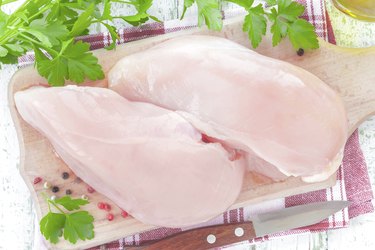 People often look for ideas about how to prepare baked chicken with cream of chicken soup or cream of mushroom soup. It makes a delicious meal when spices, herbs, vegetables and grains are added.
Cream of Mushroom Chicken Recipe
4 large portobello mushrooms
2 cups basmati or wild rice
1 large red onion
1 small red pepper
2 small yellow peppers
1 can cream of mushroom soup
1 pound chicken breasts
Begin by chopping the red pepper, yellow pepper and red onion into small, uniform pieces.
Cut the chicken into equal sized cubes as well; sauté it until fully cooked.
Add vegetables to the sauté pan and stir with a little bit of extra virgin olive oil until soft.
Heat oven to 400 F.
Clean mushrooms and remove stems. Reserve for other use. The gills of the mushroom can remain if preferred or can be removed for additional room for filling.
Let heated mixture rest.
Cook rice as directed on the package.
Combine all ingredients in a bowl. Mix with one can of cream of mushroom soup and stuff the mushrooms with the mixture.
Bake in the oven for 15 to 20 minutes or until the mushrooms begin to sweat and mushroom mixture begins to crisp on top.
Remove from oven and let rest for five minutes before enjoying.
Nutrition facts (makes four portions):
Calories: 240
Fat: 3 grams
Saturated Fat: 1 gram
Trans Fat: 0 grams
Cholesterol: 0 milligrams
Sodium: 350 milligrams
Carbs: 22 grams
Fiber: 4 grams
Sugars: 3 grams
Protein: 25 grams
Mancella notes that you may exchange the traditional cream of mushroom soup for a vegan option that lacks heavy cream or dairy. "We are able to decrease the fat content, as well as the sodium, in order to meet the needs of all diets," she says. The recipe can be personalized by adding other vegetables and herbs.
This dish can be a weeknight go-to for those trying to lower their carbohydrate intake but still include grains, Mancella states. "Though it does contain wild rice, some versions are gluten-free, making this a crowd-pleaser for those with allergies and intolerances."
Cream of Chicken vs. Mushroom
You can definitely substitute cream of chicken soup in a recipe that calls for cream of mushroom soup, and vice versa, in most recipes, notes Mancella. The choice is based on personal preference and the goal for each recipe. "Cream of mushroom soup provides an earthy flavor profile to recipes that I personally tend to crave," she adds. You can use beef broth and chicken broth interchangeably as well.
While cream of mushroom and cream of chicken soups are cream based, the first contains mushrooms, while the latter contains chicken stock and pieces of chicken. The soups offer much versatility, and they are featured in many recipes such as chicken mushroom soup casserole and chicken with mushroom sauce.
Another type of soup that can frequently be used in place of either of these two soups is cream of celery. This soup is so tasty that many people enjoy eating it by itself.
Data from FoodData Central shows that a 1/2 cup serving of Campbell's condensed cream of mushroom soup contains 104 calories, 1.66 grams protein, 7.1 grams fat, 8.5 grams carbohydrates and 899 milligrams of sodium. A 1/2 cup serving of condensed cream of chicken soup contains 113 calories, 3 grams protein, 7.27 grams fat, 9.02 grams carbohydrates and 885 milligrams of sodium, reports FoodData Central.
Healthy Poultry Cooking Tips
According to the Mayo Clinic, the part of poultry with the least fat is the breast without the skin. The Academy of Nutrition and Dietetics states that a 3-ounce serving of skinless chicken breast contains 3 grams total fat, 1 gram saturated fat and 140 calories. The same size serving of skinless dark meat has 170 calories, 9 grams total fat and 3 grams saturated fat.
Ground chicken and turkey can have as much fat as ground beef, because they sometimes contain skin and dark meat. For the leanest ground poultry, choose a package labeled 90 percent lean.
Some methods of preparation also help to reduce the fat content of poultry dishes. Before baking or roasting chicken, trim off any fat. You can leave the skin on during cooking, but afterward, remove it, and the underlying fat, before eating.
Low-fat cooking methods include baking, roasting, broiling, grilling and sauteing, according to the Mayo Clinic. When you cook chicken in the oven, put it on a rack in a baking pan that permits the fat to drip down from the meat. In addition, try oven-fried chicken instead of frying chicken the traditional way, suggests the USDA.