Breakfast isn't always a joy to prepare and eat, especially if you're not a morning person or just don't feel hungry after you wake up. However, there are significant benefits to eating a balanced morning meal, especially if you're trying to slim down, adopt a better diet or stay at a healthy weight.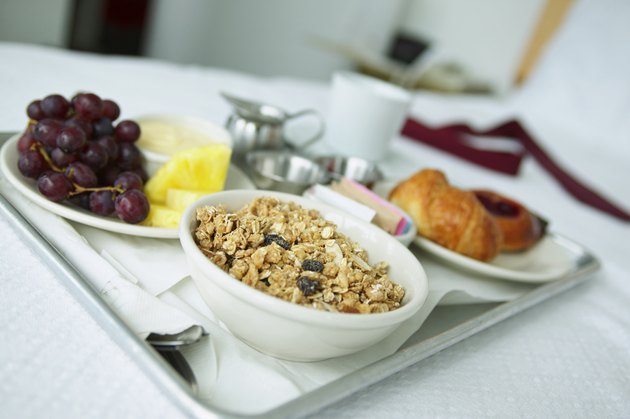 Weight Control
Eating breakfast every day tends to reduce your overall hunger, prevent overeating and reduce the risk of obesity. People who eat breakfast are more likely to make healthy nutritional choices throughout the day and reach for smart snacks and meals rather than quick fixes that provide little more than empty calories. Breakfast also cuts your chance of overeating at lunch in half, notes Florida International University.
Energy and Focus
Your blood sugar levels drop when you sleep, but eating breakfast shortly after you wake up keeps them on track to be level all day. When you skip breakfast and your blood sugar levels stay low, you may feel irritable, experience trouble concentrating and become prone to dizziness, fainting or even hypoglycemia. Having a balanced breakfast also raises your energy level and activates your metabolism, which can increase the likelihood that you'll be physically active throughout the day.
Time and Investment
One of the primary disadvantages to eating breakfast is that it takes time to prepare. Even if you only plan to down a quick meal like a smoothie, you need to wake up a few minutes early to make it and clean up. To combat the challenge, try a grab-and-go breakfast such as a protein bar or do prep for your morning meal the night before.
Nutrition
The foods you choose to eat at breakfast can be either a positive or a negative. Unfortunately, a number of popular breakfast options such as Belgian waffles, doughnuts and sausage links are packed with calories, fat and cholesterol. To get the vitamins, minerals and nutrients your body needs, Choose a combination of healthy fat, lean protein and high-fiber carbohydrates. Examples include whole-wheat toast with peanut butter, low-sugar granola with fresh berries and nonfat yogurt or brown rice porridge with skim milk and a banana.