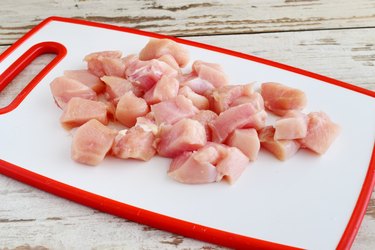 Cubed chicken is a versatile ingredient that can be added as a topper to many dishes. Add it to salads, soups, stir-fries, curries and more to up your meal's protein content. Cooking diced chicken in a saucepan is quick and easy — it will help you get dinner on the table in no time.
Cooking Cubed Chicken
You can cook cubed chicken alone and later add it to a dish. According to the USDA Food Safety and Inspection Service (USDA FSIS), cooked chicken can be stored in the refrigerator for up to three or four days. You can also saute cubed chicken with other ingredients as part of a dish such as a stir-fry.
Cooking cubed chicken alone takes about 10 minutes with prep time. Start with raw, boneless, skinless chicken breast. The amount of chicken you need will vary depending on the specific recipe you're making and how many people you're making it for.
Though some people wash their chicken before cooking, the USDA FSIS doesn't advise it. This is because rinsing chicken doesn't kill bacteria, and bacteria in poultry juices can be spread to other foods, utensils and surfaces in your kitchen.
Start by cutting the chicken breast into 1-inch pieces. Place chicken pieces into a bowl, add salt and pepper and toss to coat all sides. At this point, you can add a marinade if you would like. You can choose to cook your chicken right after this step, or you could marinate the chicken in the refrigerator for up to two days, according to the USDA FSIS.
Heat 2 tablespoons of olive or canola oil in a pan. Fry chicken until it loses its pink color and is slightly browned on both sides, about three to four minutes on each side. According to the U.S. Department of Health & Human Services, the chicken's internal temperature should reach at least 165 degrees Fahrenheit to ensure that harmful bacteria that can cause food poisoning have been killed. You can insert a food thermometer into the chicken to check.
Diced Chicken Recipes
There's an endless number of diced chicken recipes out there from a multitude of cuisines. If you're craving stir-fry, Stanford Health Care has an easy 10-minute recipe.
The addition of basil, oregano and Parmesan cheese to the usual stir-fry suspects — frozen mixed vegetables and mushrooms — turns this usually Asian dish Italian. In this recipe, the cubed chicken is partially cooked first, then set aside and finally re-added to and stir-fried with the vegetables, once those have already been stir-fried for about four minutes.
This LIVESTRONG.com Chicken Pad Thai Zoodles recipe also incorporates cubed chicken. With the addition of carrots, squash, bean sprouts and zucchini noodles instead of pasta, this is a fresh, zesty and healthy take on usually carb-heavy pad thai. In this recipe, the cubed chicken is fried with garlic in sesame oil for an extra pop of flavor. One serving of this recipe contains a whopping 30 grams of protein and only 296 calories.