Homemade hamburgers can easily end up dry and lacking flavor. Worcestershire sauce, while difficult to pronounce, is perfect for adding flavor and maintaining juiciness in homemade hamburgers. If you add too much Worcestershire sauce to your hamburger meat, it will result in your hamburger patties falling apart during the cooking process. When using Worcestershire sauce to add flavor and moisture to your hamburgers, do not use any other liquid flavorings.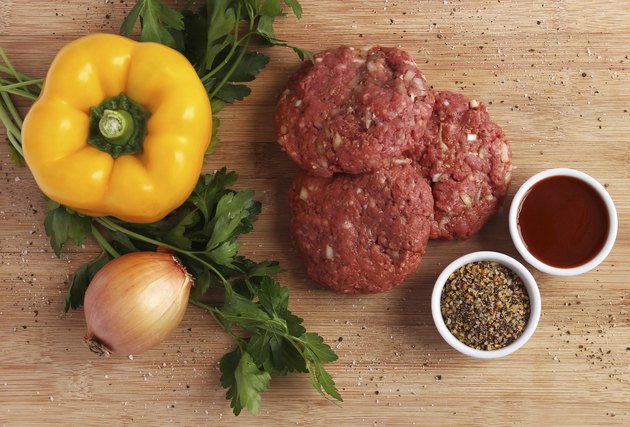 Step 1
Cover a baking dish with wax paper. Place the dish near where you are working.
Step 2
Place the hamburger meat in a large bowl. Make sure the bowl is large enough to add and mix ingredients without making a mess.
Step 3
Add dry seasonings to the hamburger meat. Mix the meat and seasonings by hand until they are completely mixed together.
Step 4
Add 1 tablespoon of Worcestershire sauce per pound of hamburger meat you are using. Mix the Worcestershire sauce and the meat completely.
Step 5
Check your hamburger meat to ensure there is not any excess liquid. When you move the hamburger meat to the side of your mixing bowl there should be no liquid in the bottom.
Step 6
Add a spoonful of bread crumbs to the hamburger meat if there is any liquid in the bottom of your mixing bowl. The bread crumbs will soak up the excess liquid. Mix the bread crumbs into the hamburger meat. Continue to add a spoonful of bread crumbs and mix until there is no excess liquid in the bowl.
Step 7
Make a fist-sized ball out of the hamburger meat. Set the balls of meat on the baking dish. Continue making meat balls until you have used all the hamburger meat.
Step 8
Flatten each ball with the palms of your hands. You should not feel any liquid coming from the meat when you press down.
Step 9
Place each flatten patty on the grill or in a skillet and cook until done. Flip the burgers halfway through cooking with a spatula. How long you cook the patty is determined by how done you like your hamburgers. Medium rare burgers take around 8 minutes while well done burgers take around 15 minutes.
Things You'll Need
Wax paper

Baking dish

Hamburger meat

Mixing bowl

Dry seasonings

Worcestershire sauce

Spatula