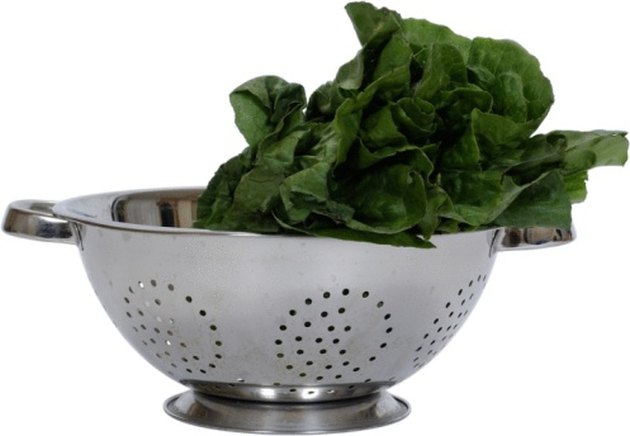 Eggs are a versatile food that you can cook in different ways, with many accompanying ingredients and flavors. Add various meats, cheeses or vegetables to eggs to make a memorable breakfast, lunch or dinner. Spinach is one vegetable that is often added to scrambled eggs, omelets or quiche to make a healthy meal at any time of the day. Use frozen or fresh spinach, and use only egg whites if you want to eliminate the fat of the yolk from the dish.
Step 1
Wash 1 lb. of fresh spinach thoroughly under cool, running water.
Step 2
Add the spinach to a pot over medium heat and allow it to wilt. It will seem like a lot of spinach in the pot, but it shrinks down considerably.
Step 3
Cook the spinach for roughly three minutes and then place it directly into an ice bath to maintain the color.
Step 4
Dry the spinach in a salad spinner or squeeze it dry with a paper towel.
Step 5
Beat four to six eggs in a bowl and add the spinach. Add 1 tbsp. of butter or a three-second spritz of cooking spray to a skillet preheated to medium, and pour the egg mixture into the pan. Add minced garlic or ginger, or a splash of two of hot sauce to enliven the flavor.
Step 6
Stir the egg mixture gently around the pan and lift the edges to allow any uncooked egg to come in contact with the bottom of the skillet.
Step 7
Cook the mixture for two minutes, and then flip it over with a spatula. If it is too big, invert a plate on the skillet and flip it over so that the eggs are on the plate. Slide it off and into the skillet to cook the other side for two minutes.
Things You'll Need
1 lb. fresh spinach or

1 package frozen spinach

Pot

Ice bath

Salad Spinner

Paper towel

Eggs

1 tbsp. butter

Garlic

Ginger

Hot sauce

Skillet

Spatula
Tip
Add cream cheese to the egg-and-spinach mixture prior to cooking for a creamy consistency. Add cream to the egg-and-spinach mixture and pour it into a pie shell to bake as a quiche. An ice bath consists of a large bowl of water with several ice cubes.