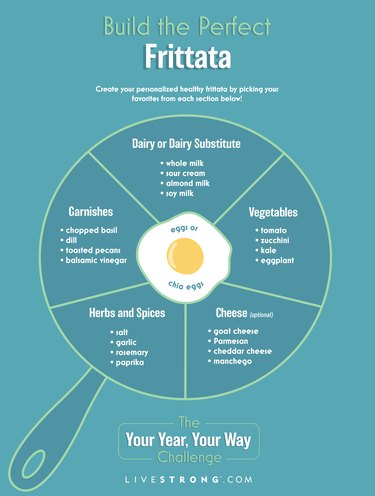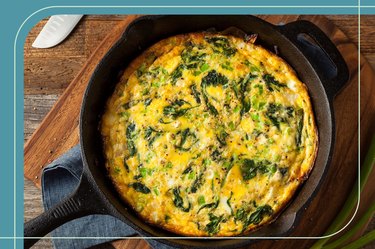 Think of a frittata as the fancy cousin of scrambled eggs. There's an undeniable family resemblance: Both are loaded with fluffy eggs, nutrient-rich veggies and flavorful cheese. But only one delivers an elevated presentation that will make you feel like a professional chef.
"I love a good frittata in the morning," Maya Feller, RD, CDN, owner of Brooklyn-based Maya Feller Nutrition, tells LIVESTRONG.com. She says it's the perfect way to start the day with a healthy dose of phytonutrients — chemical compounds found naturally in veggies that have antioxidant and anti-inflammatory benefits. And she ‌always‌ adds hot sauce or jalapeños for a kick.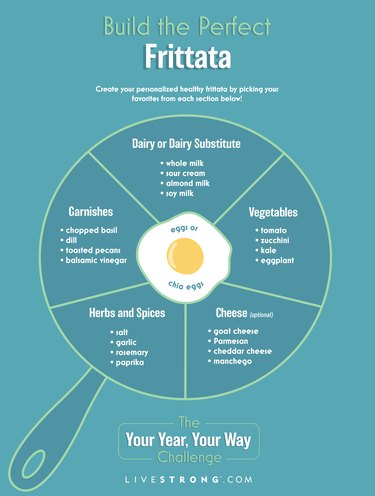 Eggs are an affordable, low-calorie food containing 13 essential vitamins and minerals and 6 grams of high-quality protein all in one neat little package, according to the USDA.
As your base, aim for two eggs per person and whisk well. Using fewer eggs means you run the risk of a dry, spongey, bland frittata. (Blech!)
For a vegan substitute, stir together a batch of chia eggs. For each egg you want to replace, mix 2 1/2 tablespoons water and 1 tablespoon chia seeds in a small bowl. Set aside for 3 to 5 minutes to gelatinize.
Step 2: Pick Your Dairy or Dairy Substitute
Dairy helps provide creaminess and a richer flavor to your frittata. For the best result, use full-fat dairy, such as whole milk or half-and-half. Thicker, lower-fat dairy items, including Greek or regular plain yogurt, sour cream or buttermilk also work. Add approximately 1 tablespoon of dairy per two eggs.
You can also use liquid, low-fat dairy (such as low-fat or fat-free milk) and non-dairy beverages (like almond milk, oat milk or soy milk). But because these options can make your frittata a bit watery, use 1/2 tablespoon per two eggs instead.
Choose from these dairy and non-dairy options:
Whole milk
Half-and-half
Plain Greek yogurt
Plain regular yogurt
Sour cream
Buttermilk
Low-fat or fat-free milk
Almond milk
Soy milk
Step 3: Select Your Vegetables
You can add any vegetables you enjoy to your frittata, as long as they've already been cooked. Raw veggies pack lots of water, which will make your frittata soggy. Sauté, steam or roast your vegetables first to cook off some water. You can also add salt, pepper and other spices when you're pre-cooking your veggies. (This is also a great way to use leftovers from last night's dinner!)
Aim for 1 to 2 cups of cooked vegetables — you'll need to start with about double that amount of raw veggies. Pick any you like from this list:
Broccoli
Onion
Mushroom
Tomato
Onion
Zucchini
Spinach
Kale
Arugula
Squash
Carrot
Leek
Eggplant
Shallot
Cheese adds flavor and richness to a frittata. Any cheese you like will do — soft or hard — just be sure to grate, shred or crumble it first so that it will be uniform throughout. If you're not a cheese fan or opting for a dairy-free frittata, skip the cheese entirely.
A little goes a long way, so you don't need much of any of these varieties:
Feta

Cheddar
Swiss
Mozzarella
Parmesan
Burrata
Munster
Manchego
Jack
Step 5: Decide on Herbs and Spices
Get creative with these flavor enhancers. Add spices when you're pre-cooking your vegetables or toss in fresh herbs before you cook the whole dish.
"I often do some kind of green onion with a green leafy vegetable and then some kind of spice," Feller says, adding that a recent favorite is jalapeños, shallots, garlic and basil. Or, try chili powder with peppers and onions for a Southwest-style frittata or garam masala for an Indian-inspired twist.
Experiment with these flavors:
Salt
Pepper
Chili powder
Garlic
Basil
Cilantro
Thyme
Dill
Parsley
Rosemary
Turmeric
Cumin
Paprika
Onion powder
Curry powder
Get Cooking!
A traditional frittata starts on the stove and moves to the oven, so you'll need either a cast iron or oven-safe nonstick skillet. Then, follow these instructions:
Preheat the oven to 425 degrees Fahrenheit.
In a medium bowl, add eggs and whisk well.
Add your dairy or dairy substitute and some salt and whisk together.
Mix in cheese, if you're using it.
Add oil to an 8- to 9-inch skillet over medium heat.
Add raw vegetables to the skillet and cook, stirring occasionally, for 3 to 5 minutes. Add any optional spices and herbs and mix well. (If you're using precooked veggies, you can skip this step.)
Pour the egg mixture over the vegetables and stir to combine, distributing across the pan.
Cook for 30 seconds, then turn off the heat and transfer the skillet to the oven.
Bake for 7 to 12 minutes. Remove when the eggs are puffed and the center only jiggles slightly when you move the skillet.
Cool for 5 minutes.
Top with optional garnish.
When you're ready to serve your frittata, garnish with chopped herbs, crumbled cheese or toasted nuts. Depending on what's inside, some salsa, hot sauce or balsamic vinegar may also work nicely.
Try any of the following:
Chopped basil
Thyme
Dill
Parsley
Crumbled cheese
Sliced almonds
Toasted pecans
Salsa
Hot sauce
Balsamic vinegar
Put It All Together in These Recipes
Was this article helpful?
Thank you for your feedback!