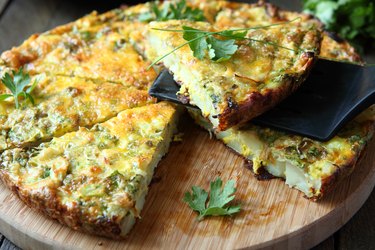 There's no limit to what ingredients you can toss into the fan-favorite frittata.
You can add just about anything into this versatile version of eggs — including all the canned goods you've stockpiled in your pantry over the last few months — and you can guarantee it'll taste like a gourmet meal.
Ready to fry up your fluffiest frittata? These six simple, dietitian-approved frittata recipes all pack 10 grams of protein or more and use up those canned foods you already have on hand.
1. Spring Frittata With Artichokes, Peas, Green Onions and Goat Cheese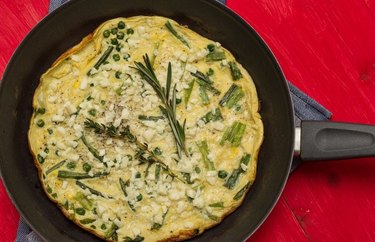 Calories: 204
Protein: 14 grams
Wondering what to do with that jar of artichoke hearts? Nutrient-dense, antioxidant-rich artichokes make an amazing addition to this low-calorie, flavorful frittata.
"This recipe combines great sources of protein and fat including eggs, milk and cheese, which most of us have in the fridge at all times, with green antioxidant-rich veggies for a nutritious, filling meal that can be stored in the fridge and used for leftovers for the week," dietitian Laura Burak, RD, CDN, tells LIVESTRONG.com.
Since protein and fat help stabilize your blood sugar, this egg-cellent dish is guaranteed to keep you full and satisfied until lunchtime.
Burak is a big fan of using the full-fat options of milk and butter in small amounts because a little bit goes a long way — and they add so much flavor.
2. Mediterranean Frittata
Calories: 252
Protein: 16 grams
If you're stumped about how to use the sun-dried tomatoes sitting in your pantry, this mouthwatering Mediterranean-inspired, feta-based frittata will put them to good use.
"The trio of nutritional powerhouses onion, garlic and spinach are not only delish in any dish, but they provide a whole bunch of vitamins, minerals and compounds that make this recipe an A+ in my healthy diet book," Burak says.
And while eggs and feta offer a bountiful base of protein, Burak loves the addition of full-fat plain Greek yogurt to incorporate even more protein plus probiotics for gut health.
3. Zucchini and Corn Frittata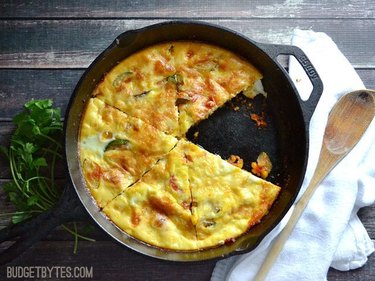 Calories: 180
Protein: 11 grams
Not your ordinary omelette, this fancy frittata utilizes fresh produce and canned vegetables for a variety of nutrients.
"The combo of corn, tomatoes and zucchini, which are typically summer veggies, coupled with eggs and cheese in this recipe make it a complete meal that is both filling and economical," Burak says.
"And if you use frozen or canned versions of the veggies, you can make this dish all year long which is a nutritious and convenient bonus," she adds.
‌Get the Zucchini and Corn Frittata recipe and nutrition info at Budget Bytes.‌
4. Roasted Red Pepper and Feta Frittata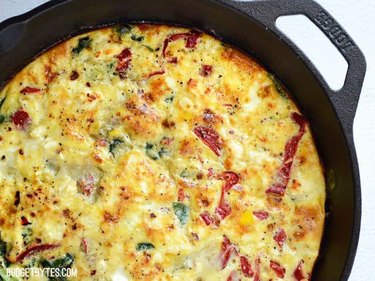 Calories: 230
Protein: 13 grams
"Jarred roasted peppers, which are a tasty and convenient pantry item to add to any meal, are the star of this recipe," says Burak adding that "peppers not only provide a hit of vitamin C, but they give this dish some bright red color, which pairs well with the green from the spinach."
Tasty and pretty — that's what we call a win-win.
Meanwhile, a dash of red pepper provides a hint of heat and a temporary metabolism boost. Have leftovers? You can freeze your frittata for up to two months for future meals.
‌Get the Roasted Red Pepper and Feta Frittata recipe and nutrition info at Budget Bytes.‌
5. Southwest Frittata With Black Beans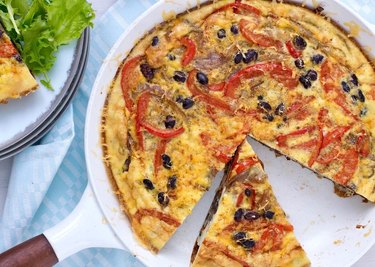 Calories: 201
Protein: 14 grams
Cumin, chili powder, cilantro and salsa supply the Southwestern spice for this easy-to-make egg-bake, which also boasts pantry staples like high-fiber black beans and fridge faves including flavorful red onions and antioxidant-abundant bell peppers.
"Once again, this recipe contains all three macronutrients for a complete meal: The beans provide carbs while the eggs and cheese add both protein [14 grams per serving] and fat," Burak says.
And this Mexican-inspired meal shouldn't be limited to mornings. Indeed, this protein-packed, filling frittata hits the spot for breakfast, brunch or dinner.
‌Get the Southwest Frittata With Black Beans recipe and nutrition info at Tara Teaspoon.‌
Calories: 170
Protein: 13.5 grams
"It's like a niçoise salad married an omelette and they had a beautiful filling frittata," Burak says.
From tinned tuna to canned corn, potatoes, green beans and black olives, this budget-friendly frittata recipe will transform the cadre of cans in your cupboard into a decadent restaurant-style dish for a fraction of the price.
"The combo of ingredients is not only nutritious, but this dish will likely keep you full for hours because it combines a balance of all three macronutrients: Potatoes provide the carbs while the eggs, tuna and cheese are excellent sources of protein and heart-healthy fats," Burak says.
‌Get the Tuna Nicoise Frittata recipe and nutrition info at My Fussy Eater.‌