Blueberries are often found on lists of superfoods, and for good reason. Packed with powerful antioxidants, blueberries are low in calories and high in fiber. They are predominately composed of carbohydrates, like most fruits, so if you are on a low-carb diet, you may want to calculate the net carbohydrates of blueberries when incorporating them into your diet.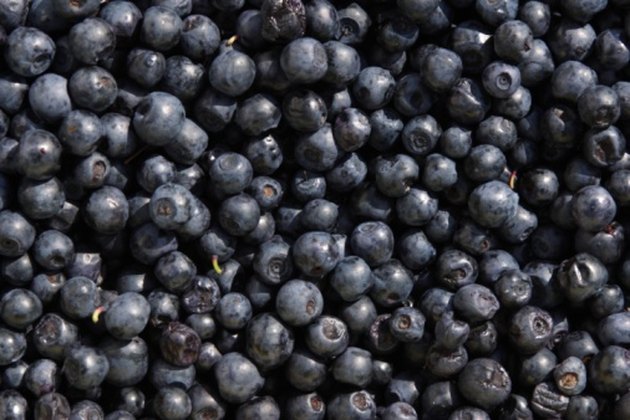 Total Carbohydrates in Blueberries
A 1-cup serving of blueberries contains 19 g of total carbohydrates and 1 g of protein. With zero fat, the majority of the calories in blueberries come from the carbohydrates. Blueberries contain approximately 80 calories per serving.
Net Carbohydrates
While watching carbs, you should always subtract the fiber from your total count to reach the net carbohydrate count. A serving of blueberries has 5 total g of fiber. Therefore, the net carbohydrates, meaning the total amount minus the grams of fiber, equals 14 g of carbohydrates per serving.
Antioxidants and Health Benefits
Blueberries contain powerful antioxidants – in fact, they contain twice as many as spinach and three times as many as oranges per serving. Blueberries help with insulin resistance and are a healthy food for diabetics and those watching blood sugar. They help produce a slow release of glucose into the blood due to the healthy antioxidant chlorogenic acid.
Disease Prevention and Recommendations
According to holistic health practitioner Lisa Metzgar, Ph.D., "Eating blueberries has been shown to improve cognitive and motor skills, improve short-term memory, increase balance and coordination, help improve eyesight and night vision, prevent urinary tract infections, decrease cholesterol, protect against macular degeneration, and improve cardiovascular health." Metzgar recommends looking for blueberries with a silverish gray skin. This is a protective outer coating known as "the bloom." Blueberries should be firm and kept refrigerated for freshness. Wash them right before you plan to serve or eat them to ensure freshness and firmness.