The nutrients found in cod liver oil, most notably vitamin D and the omega-3 fatty acids eicosapentaenoic acid, or EPA, and docosahexaenoic acid, or DHA, might be effective for decreasing the risk for hypertension and lowering blood pressure in individuals with high blood pressure. Cod liver oil is available in liquid and capsule form. Consult your health care provider before taking any cod liver oil.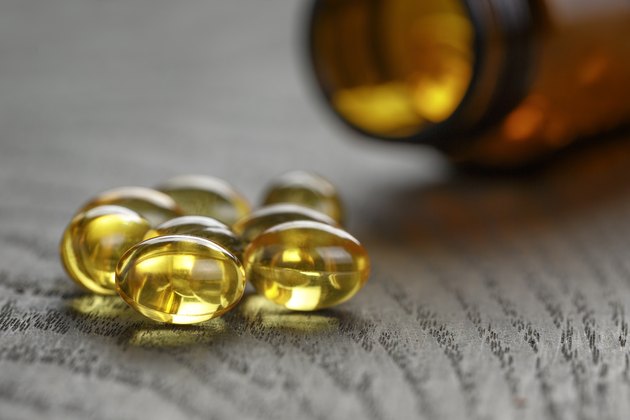 High Blood Pressure
High blood pressure, also known as hypertension, is a condition in which arteries use a high amount of pressure to circulate blood through the body. Uncontrolled and untreated high blood pressure can damage arteries and increase the risk for both heart disease and stroke. High blood pressure usually has no symptoms until it reaches dangerous levels in the body, according to the Mayo Clinic.
Hypertension Risk
Vitamin D is mostly associated with bone health, but it might also reduce the risk for developing hypertension, according to a study conducted by researchers from Harvard Medical School and Brigham and Women's Hospital. They discovered that men and women with adequate vitamin D levels were significantly less likely to develop hypertension compared with those with inadequate vitamin D levels. Researchers suggest that sufficient vitamin D levels suppress renin, an enzyme that increases blood pressure. However, further research on humans is needed, according to the May 2007 issue of "Hypertension."
Lower High Blood Pressure
Omega-3 fatty acids found in cod liver oil might decrease blood pressure, according to a review performed by researchers from the University of Western Australia and the Cardiovascular Research Centre in Australia. They found that 3 to 4 g of omega-3 fatty acids was associated with a reduction in blood pressure, particularly in those suffering from high blood pressure. Their research was reported in the February 2010 issue of "Cellular and Molecular Biology."
Side Effects
Keep in mind that omega-3 fatty acids may increase the risk for bleeding and cause vitamin E deficiency. In addition, gastrointestinal side effects, such as bloating and diarrhea, have been reported, according to the University of Maryland Medical Center. Speak to your health care physician before taking cod liver oil.
Is This an Emergency?
If you are experiencing serious medical symptoms, seek emergency treatment immediately.