The U.S. Department of Agriculture recommends at least half of your grain servings consist of whole grains. There's a good reason for this -- whole grains are more nutritious and provide more health benefits. The healthiest type of pita bread is one made with whole grains, such as whole-wheat.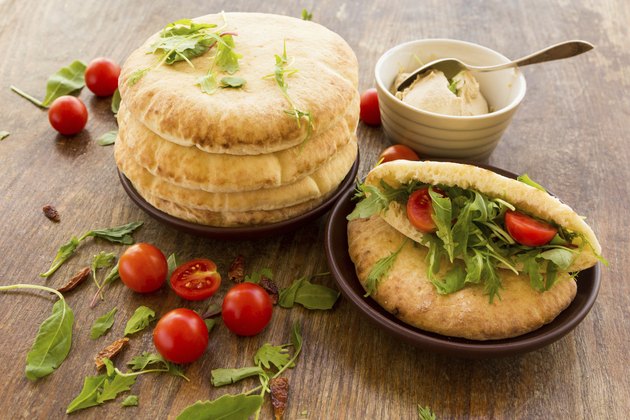 Macronutrient Content
Unenriched white pita bread, enriched white pita bread and whole-wheat pita bread all have about the same number of calories, with a 6-inch white pita containing 165 calories and a same-sized whole-wheat pita containing 170 calories. White pitas each provide 0.7 gram of fat, 5.5 grams of protein and 33.4 grams of carbohydrates, while whole-wheat pitas have 1.7 grams of fat, 6.3 grams of protein and 35.2 grams of carbohydrates. The big difference between these types of pita bread is the fiber content. A whole-wheat pita contains 4.7 grams, or 19 percent of the daily value, but white pitas only have 1.3 grams of fiber, or 5 percent of the DV.
Vitamin Content
Whole-wheat pitas each have 14 percent of the DV for thiamine, while unenriched white pitas only contain 11 percent of the DV for this essential vitamin. Because enriched pitas have extra vitamins added to them, they are the best source of vitamins, providing 24 percent of the DV for thiamine, 12 percent of the DV for riboflavin, 14 percent of the DV for niacin and 16 percent of the DV for folate. These B vitamins help your body turn the food you eat into energy and keep your brain and nerves functioning properly.
Mineral Content
You'll get the most minerals from eating whole-grain pitas. Each whole-grain pita provides 11 percent of the DV for iron and magnesium, 12 percent of the DV for phosphorus, 56 percent of the DV for manganese and 40 percent of the DV for selenium. Both enriched and unenriched white pitas contain 14 percent of the DV for manganese, and enriched pitas also provide 23 percent of the DV for selenium. Selenium and manganese act as antioxidants, phosphorus and magnesium help form strong bones, and iron helps form red blood cells to transport oxygen within your body.
Potential Health Benefits
Eating more fiber, which you get when you eat whole-grain pitas, can help limit weight and fat gains, according to a study published in "The Journal of Nutrition" in January 2009. Eating whole grains may also help lower your risk for high cholesterol and high blood sugar, potentially reducing your risk for heart disease and Type 2 diabetes, according to an article published in "The American Journal of Clinical Nutrition" in December 2007.