A baker who needs to substitute eggs in a cake recipe can do so by adding applesauce. The eggs in the recipe are used for additional moisture, which gives the cake its consistency. A cook who adheres to vegan practices can't use or eat eggs. To do so would violate her beliefs. Another cook may be dealing with an egg allergy in her family, which makes substituting with applesauce a health necessity. To substitute applesauce for eggs, you need to know how many eggs the recipe requires. This will tell you how much applesauce you need to add in place of the eggs.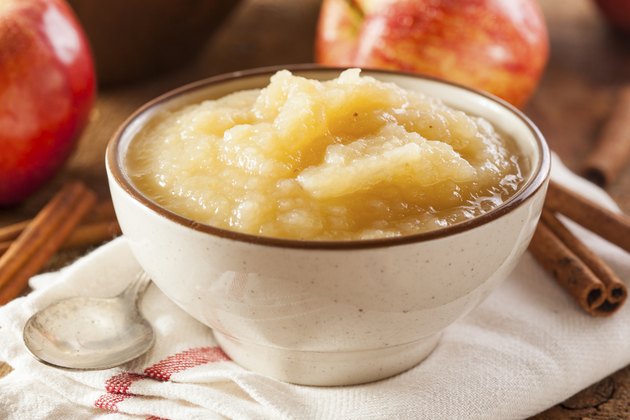 Step 1
Read the cake recipe. If it calls for more than one egg, you need to substitute enough applesauce to act as a moisturizer. The eggs add moisture to the cake, especially if you have a leavening agent such as baking powder to make the cake rise as it bakes.
Step 2
Measure out 1/4 cup per egg called for in the recipe – if the recipe calls for three eggs, add 3/4 cup of applesauce to the ingredients. Add 25 to 30 percent more baking powder to the recipe and bake the cake for a few minutes more than the recipe states. Check the cake's doneness with a toothpick inserted into the center of the cake.
Step 3
Use applesauce when you want to add to the flavor of a spice cake.
Step 4
Substitute the eggs in a non-vegan cake recipe and replace them with applesauce. Measure 1/3 cup applesauce for each egg you are substituting for. If the recipe you are altering calls for three eggs, measure out 1 cup of applesauce and add it to the recipe.
Things You'll Need
Cake recipe

Measuring cup
Tips
Substituting applesauce for a non-vegan cake recipe does not call for adding any additional baking powder.
Warning
Don't forget to make the recommended adjustments where they are called for or your cake will not turn out correctly.