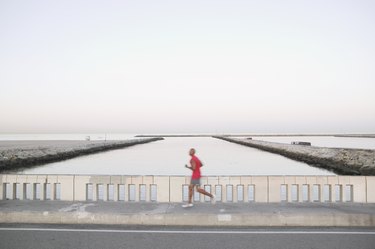 Swimming and running are both endurance exercises that give your cardiovascular system a challenging workout. If burning calories is your goal, both modes can do the trick. But the total amount of calories burned depends on the intensity and duration of your workout sessions, and the efficiency of your movement. Learning more about how the energy and physiological demands of swimming and running are met will help you spend your workout time more wisely.
Calculating Calories
Calories are units of heat energy that measure how much fuel you burn in a given exercise session, which is dependent on the amount of oxygen your muscles use. Your oxygen consumption is determined by intensity, or how much demand you place on your muscles. The more you exercise, the more efficient you become at burning calories and producing energy. Skill is also a factor in energy expenditure during swimming and running. According to the American College of Sports Medicine, you will be able to work harder and longer, and burn more calories at a higher skill level. Whether swimming or running, intensity and skill are the primary factors that determine how many calories you burn per minute.
Running is Rougher
During running, speed and incline are primary determinants of energy expenditure. Running at eight miles per hour on a level surface burns around 12.5 to 15 calories per minute, or about 112 calories per mile. The number of calories you burn during your run depends on your fitness and skill level, and your running speed. Running can be hard on your joints, so make sure you invest in a supportive shock-absorbing running shoe.
Swimming is Slower
Because you are working against the resistance of water, swimming a quarter mile is roughly the caloric equivalent of running one mile. However, you will not be able to swim as fast as you run. According to "Guinness World Records, Michael Phelps' top speed is about 4.7 miles per hour. (reference ) But unless you are an elite swimmer, your speed will not come anywhere near that pace. Distance swimmer Diana Nyad, who swam from Cuba to Florida, normally averages about 1.5 miles per hour. If you swam at her speed, you would swim a quarter mile in 10 minutes, while a quarter mile running at eight miles per hour takes less than two minutes.
Plunge or Lunge?
Even if you are on a mission to burn as many calories as possible, other factors should be considered besides total energy expenditure. If you have musculoskeletal issues like knee, hip, ankle or back pain, swimming may be a better choice because the buoyancy of the water helps support your joints, while running puts a great deal of impact stress on your body. On the other hand, running is easily accessible anywhere, whereas swimming requires access to a pool or body of water, which may pose an inconvenience that keeps you from working out. Finally, your personal preferences are an important consideration, because if you dislike your mode of exercise, you are less likely to be consistent.
no content
no content
no content