Hydration is touted as a healthy habit to endorse. Drink water and other noncaffeinated, non-alcoholic beverages to flush your body of toxins and help your skin stay clear and generally feel better. Most people do not drink enough daily and do not experience problems when they suddenly increase their fluid intake. Others, however, might notice potentially dangerous symptoms when their fluid intake becomes excessive.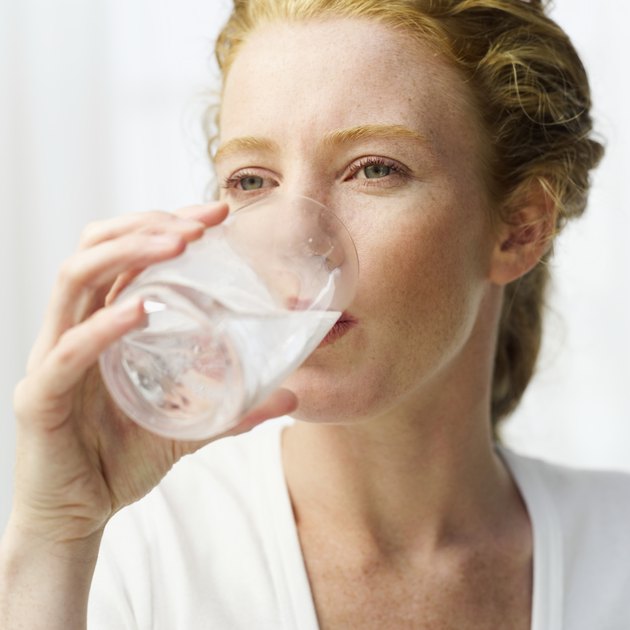 Low Sodium Levels
Everyone needs sodium, or salt, to survive. High levels of sodium can contribute to high blood pressure, which in turn increases your risk of stroke. Lower-than-normal levels of sodium in your body can also be detrimental to your health, and might be a result of excessive fluid intake. When you drink significantly more water, juice, sports drinks or other beverages than your kidneys can handle, your body's sodium-to-fluid ratio drops. Hyponatremia is the name of the condition in which you do not have enough sodium in your blood. Hyponatremia can be life-threatening if not treated.
Water Intoxication
Water intoxication is a medical condition that results from hyponatremia, the imbalance of sodium vs. fluids in your body. Water intoxication can be a serious and even fatal condition. Symptoms include frequent urination, nausea, vomiting, headache and cognitive impairment, usually in the form of confusion. Severe cases of water intoxication can cause death. Babies under 1 year old that drink excessive amounts of water for their age might experience seizures and brain damage as a result of water intoxication. Because everyone's sodium levels differ slightly, the amount of fluids that triggers water intoxication will vary from person to person. Try to limit your fluid intake to 64 ounces daily to prevent symptoms of water intoxication.
Chronic Diarrhea
You might be advised to drink plenty of water when you have diarrhea to avoid becoming dehydrated. This is true to a point, as you can become too dry very quickly when you lose excessive fluids to constant bouts of watery stools. However, in some cases, drinking more water than your usual amounts can exacerbate the diarrhea. Your condition might worsen because water does not include the electrolytes and sugars your body needs to replace when you are sick. Consult your doctor if you have diarrhea for more than two to three days. She might advise you to limit your water intake, add some sports beverages that contain electrolytes, or to limit your overall fluid consumption to allow your digestive system to rest.
Kidney Complications
People with chronic kidney disease can experience potentially fatal outcomes through excessive fluid intake, according to registered dietitian Debra Blair, in a July 2009 issue of "Renal and Urology News." If your kidneys are already compromised, you might already have problems with your sodium levels and might need to adjust the amount of water and other fluids you drink daily to reduce the stress on your kidneys. Most people lose about 33 ounces of fluids daily through sweating, breathing and urinating. Taking in more than 66 ounces or the amount of fluids you usually lose plus another 33 ounces could lead to an overtaxing of your kidneys that could result in cardiovascular complications. Fluids are found not only in beverages, but also soup, frozen treats, many fruits and vegetables, and even meat. Your doctor might adjust your diet to restrict your food intake to reduce your overall fluid gains.