Frozen chicken patties are a fully-cooked chicken product that you prepare by simply heating in the oven or microwave. You can jazz up plain chicken patties by adding toppings and switching up your bread choices. Since chicken patties are relatively high in fat and calories, serve the sandwich with a healthy side dish.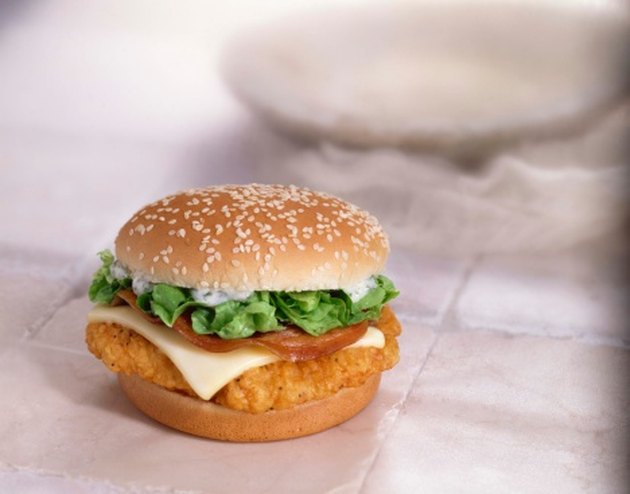 Bread Selections
When making frozen chicken patties, get creative with the bread choices you serve with the dish. White or whole-wheat sandwich bread can be used to make sandwiches with the chicken patties. Toast the bread and spread each side with a generous amount of softened butter. If you are using traditional buns, choose a sesame variety. Toast the buns in a toaster oven for 30 seconds or longer until slightly browned.
Chicken Parmesan
Frozen chicken patties can be made into chicken parmesan sandwiches. Cook the chicken patties as directed and top with spaghetti sauce, parmesan cheese and mozzarella cheese when the patties are almost done. Heat for additional five to eight minutes in the oven until the cheese has melted. Serve with a side of spaghetti covered in the leftover sauce and parmesan cheese.
Starches
Starch-based side dishes are standard when serving frozen chicken patties. Instead of serving macaroni and cheese or fries, try a healthier alternative. For instance, make mashed sweet potatoes with light cream. Another option would be to prepare a whole-grain couscous flavored with vegetables such as peas and carrots.
Vegetables
Use vegetables as toppings for the frozen chicken patties or side dishes. Rachael Ray suggests placing a generous amount of mixed greens on top of the chicken patties before serving. Options include chopped spinach, arugula or watercress. For a simpler topping, use iceberg lettuce and tomato on the chicken patties. Vegetable side dish options for chicken patties include asparagus with butter, corn on the cob, tomato and fennel salad or green beans with almonds.