No need to deny yourself crispy fried chicken, fish or pork chops on a low-carb plan. Traditional breading ingredients, such as flour and bread crumbs, are high in carbs, but you can find alternatives that fit your low-carb eating plan. The flavor and texture may not be identical to traditional breading recipes, but you'll get some of the crunch you're after by using these unconventional ingredients.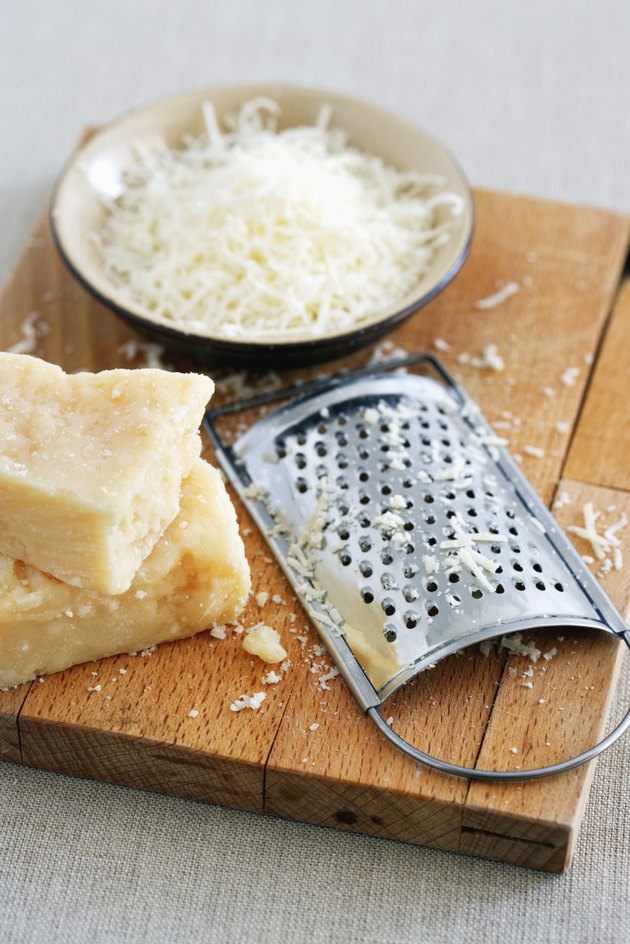 For these low-carb breading alternatives, dip the item to be coated in beaten egg first. The egg, which has only trace carbs, acts as a "glue" to adhere the "crumbs."
"Net" carbs refers to the total carbs minus the fiber in any food.
Pork Rinds Equal No-Carb Breading
Buy a bag of plain pork rinds to make a low-carb "breading" for chicken or fish, zucchini strips or mushrooms. Pork rinds have no carbs -- they're simply strips of pork fat, fried in lard. Crush them and add grated Parmesan cheese -- which has just 0.2 gram of carbohydrate per tablespoon -- as well as spices, such as granulated garlic, dried thyme leaves, cayenne pepper, black pepper and paprika. The spices have only trace carbs per tablespoon.
Dip the item you'd like to bread in beaten egg; let the excess drip off, and then dip it in your pork rind crumb mix. Sauté in olive oil or coconut oil over high heat. You may also deep fry items coated in the pork rind crumbs.
The texture of these crumbs is similar to the light, crispy Japanese crumbs known as panko, but they do have a distinct pork flavor that not everyone likes.
Almond Meal Is Low in Carbs
Almond meal is another low-carb alternative to regular wheat flour or bread crumbs. A 1/2-cup serving contains 6 grams of net carbs, but each breaded item will only have a fraction of those grams adhered. Compare this to 36 grams per 1/2 cup of bread crumbs or whole wheat flour. White flour has even more carbs -- 46 grams per 1/2 cup.
Purchase almond meal in most grocery stores, or grind blanched almonds in a food processor to make your own. Be careful not to overpulse or they will turn to almond butter.
Add a little salt to the almond meal you're going to use for breading. Dip the item to be breaded in egg and let the excess drip off. Then roll it in the almond meal until the crumbs adhere. Cook in hot oil or place on a baking sheet; spritz with cooking oil and bake in a hot oven.
Parmesan Cheese "Breading"
Parmesan cheese alone forms a crunchy exterior for chicken cutlets or fish fillets. Simply dip your item in egg and then roll it in the shredded cheese. Make sure you use shredded cheese for this -- don't use powdered, shaker Parmesan because it won't adhere or melt into a crust. Place the pieces in a very hot skillet -- a cast iron pan is often best -- coated with a dab of butter or oil. Use thin slices of fish or chicken so they cook quickly. Tilapia, whiting, sole or catfish are good fish choices. Cook only a minute or two on each side to form the crispy exterior without burning the cheese.
To add another flavor dimension, season the shredded Parmesan with dried Italian seasoning or chili powder, both of which add no notable carbs.
Coconut Flour Coating
To create a batter for fried vegetables, particularly onion rings, use coconut flour -- with 3 grams of net carbs per 2-tablespoon serving -- instead of high-carb wheat flour. Mix the coconut flour with grated Parmesan cheese, garlic powder, dried parsley flakes and cayenne pepper.
Dip 1/2-inch rings of onion, or comparable strips of other vegetables, in beaten egg. Shake off the excess, and then dip in the coconut flour mixture. Fry immediately in hot oil, as the coating is delicate and tends to fall off if the vegetable sits too long or the oil is too cool. When the coating turns golden brown, drain the pieces on a paper towel and serve.