With vibrant tomatoes, rich cream and Italian seasoning, tomato soup is the perfect comfort food -- and those croutons on top or grilled cheese triangles on the side don't hurt, either. Most low-carb diets won't get in the way of your soup fix. But if you're following a very restrictive carb diet -- or you only like your tomato soup paired with carb-heavy sides -- you may run into trouble.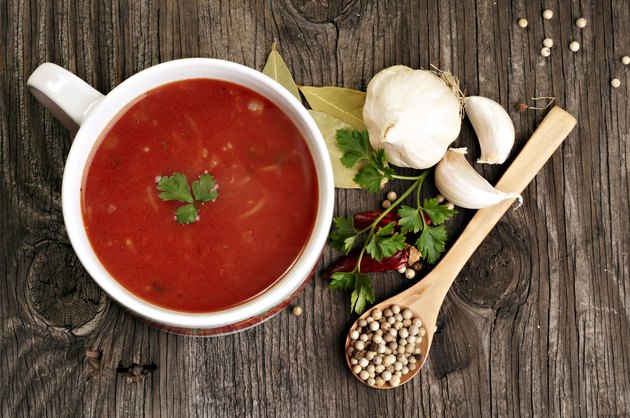 Carb Levels in Tomato Soup
Grab a spoon -- tomato soup is only a moderate source of carbs, so it shouldn't normally take up too much of your carb budget for the day. A 1/2-cup serving of condensed low-sodium tomato soup -- measured before adding water -- has 20 grams of total carbs. And because that includes 1 gram of dietary fiber, which doesn't break down into sugar, the serving has 19 grams of digestible carbs -- called "net carbs." A serving of regular-sodium condensed tomato soup fares slightly better, at 18 grams of net carbs. However, ready-to-serve portable tomato soup has more carbs -- 25 grams of total carbs and 22 grams of net carbs per serving.
Add-Ins and Sides Add Carbs, Too
A serving of tomato soup on its own isn't much of a meal -- a serving of soup ranges from 88 to 160 calories, which will likely leave you hungry shortly after eating. And if you're beefing up your tomato soup with traditional toppings and sides, you're also adding more carbohydrates. One-half cup of croutons, for example, adds 21 to 23 grams of net carbs to your meal. And if you're serving your soup with a sandwich, the bread will add carbs, too -- each slice of bread has about 9 grams of net carbs, for at least 18 grams of net carbs per sandwich.
Fitting Tomato Soup Into a Low-Carb Diet
If you're following a restricted low-carb diet -- one that requires you stick to 20 net carbs per day, like the Atkins 20 Phase 1 diet -- you may struggle to add tomato soup to your meal plan. A single serving of plain tomato soup will take up -- or exceed -- your carb "budget" for the day, so you won't have "room" in your diet for other sources of carbs, like fibrous vegetables.
If you're following a more permissive diet, though -- one that allows 50 grams of carbs or more -- you can easily plan to include tomato soup in your meal plans. While the soup will still take up a significant chunk of your carb budget, you can forgo other starchy foods -- like potatoes or grains -- and fill out your diet with low-carb veggies to avoid exceeding your carb allowance. And if you're allowed 100 or more grams of carbs each day, you can likely pair your soup with a carb-heavy side or topping, like croutons, as long as the rest of your meals are low in carbs.
Making Lower-Carb Tomato Soup
While store-bought tomato soup has a moderate helping of carbs, you can make a lower-carb alternative at home. Forgo dairy cream -- which contains natural sugar, in the form of lactose -- and make your soup with creamy coconut milk, which has just half a gram of carbohydrate per tablespoon. Use a food processor to blend 1/2 cup of crushed tomatoes with a tablespoon of coconut milk, a slice of onion and 1/2 cup of chicken broth, then heat it up for a soup that has just 8 grams of net carbs per serving.
Ditch the grilled cheese and croutons and instead serve your soup garnished with Parmesan cheese with a fried egg on the side. Or make a low-carb "soup and sandwich" lunch by pairing your soup with lettuce wraps -- sturdy romaine leaves stuffed with low-carb sandwich ingredients like turkey breast, spinach and mustard.