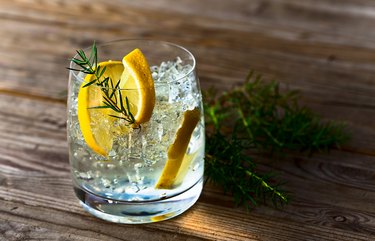 Lemon sour — also referred to as "bar mix" or "sweet and sour mix" — is a non-alcoholic mixer that's simple to make at home.
Your at-home version will be cheaper — and taste fresher — than commercial mixers.
To make it, you'll just need simple syrup (aka sugar and water) and citrus. You can mix up this sour concoction ahead, too, because it'll keep for a week, or potentially even longer, in the refrigerator.
And once you have lemon sour on hand, you'll be able to incorporate it into a variety of cocktails.
Homemade Lemon Sour Recipe
Things You'll Need
1 cup water

1 cup sugar

1 cup freshly squeezed lemon juice

1/4 cup freshly squeezed lime juice

Zest from 1 lime (optional)

Pot

Spoon

Strainer

Container
Combine water and sugar in a pot. Tell's mixologists opt for organic cane sugar. "Dissolve the sugar slowly, in three parts just to perfect the texture," Tell says.
If you're using it, add the zested lime at this point.
Lower the heat to a simmer and slowly stir with a spoon until the sugar is dissolved.
Remove the pot from the heat. Add freshly squeezed lemon and lime juice to the mixture.
Pour the lemon sour mix into a container using a strainer to avoid getting pulp or zest in.
Place the mixture in the fridge.
Tip
This recipe has more lemon than lime in it, which will reduce the lime's bitter flavor, Tell says. Other recipes may opt for equal proportions of lemon and lime juice — adjust the proportion to suit your taste buds.
You can also use other citrus fruits, such as grapefruit and blood orange, in place of the lemon and lime.
You can also add garnishes like an orange slice, lemon slice, rosemary sprigs, thyme sprigs, a cinnamon stick or whatever else you have on hand.
If you have a cocktail shaker and a bit more time on your hands, try your homemade lemon sour in the following beverages: