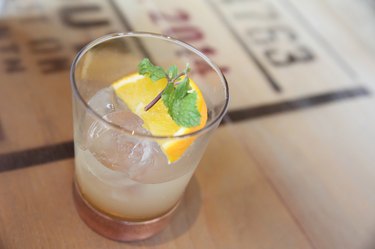 If you are fond of drinks such as melon margaritas, Midori sours, Gila monsters, shark bites or Zimamazings, you are likely paying too much at the store for their operative nonalcoholic ingredient: lemon sour. Also referred to as "bar mix," "simple syrup" or "sweet and sour mix," the recipe for lemon sour can be made from scratch at home for a fraction of the cost of commercial mixers and kept in the refrigerator for up to two weeks.
Step 1
Pour the water, sugar, corn syrup and lime zest into a pot. Heat on low and gently stir with a spoon until the sugar has dissolved.
Step 2
Remove the pot from the heat and add the fresh lemon juice and fresh lime juice to the mixture.
Step 3
Pour the liquid into a 32-oz. bottle using a strainer. Place it in the refrigerator for at least an hour before using, so it can properly chill. If you're in a hurry or only want to make a small amount of lemon sour, use equal measurements of sugar, cold water and fresh lemon juice and shake vigorously.
Things You'll Need
2 cups water

1 1/2 cups sugar

1/4 cup corn syrup

1/2 cup fresh lemon juice

1/2 cup fresh lime juice

2 tbsp. lime zest

Pot

Spoon

Strainer

32-oz. bottle