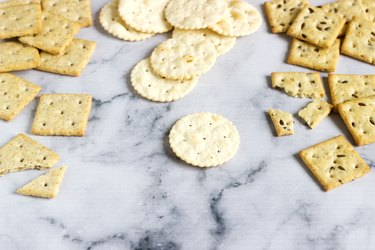 Weight Watchers' "SmartPoints" system encourages you to choose healthful foods, assigning low point values to the healthiest foods so you get to eat more of them. But as with money, once your SmartPoints budget is gone, you're done eating for the day — so choose snack foods like crackers wisely.
Low SmartPoint Crackers
Processed snack foods like crackers tend to rank relatively high on the SmartPoints system; most will cost 3 to 4 points per serving. "Hungry Girl," a contributor to Weight Watchers community who is published on the main Weight Watchers website, suggests some of the following crackers — and sometimes, crackeresque snacks — as good options for satisfying your cravings:
Pepperidge Farm Baked Naturals Simply Cheddar Cracker Chips: 4 points per 27-piece serving
Special K Sour Cream and Onion Cracker Chips: 3 points per 27-piece serving

Baked Classics Vanilla Frosting Multigrain Crisps: 3 points per package
Flatout EdgeOn Baked Flatbread Crisps: 3 points per 15-chip serving
Snyder's of Hanover mini pretzels: 3 points for a 20-pretzel serving
Tostitos Scoops tortilla chips: 4 points for a 13-chip serving
Perhaps a little less exciting is the Weight Watchers rating for fat-free Saltines crackers: 3 points for a serving of just 6 crackers. You can stretch your points budget a little further by shopping for Weight Watchers official branded snacks. Some crispy, cracker-like options include:
WW Sea Salt Hummus Crisps: 2 points per pouch
WW Iced Cinnamon Puffs: 2 points per pouch (they're sweet, but still crunchy)
WW Barbecue Potato Crisps: 2 points per pouch
WW Salt and Vinegar Potato Crisps: 2 points per pouch
ZeroPoint Weight Watchers Crackers?
The latest iteration of Weight Watchers, known as WW Freestyle, introduces more than 200 ZeroPoint foods. They're essentially freebies in the WW system — you can eat as much or as many as you want. The list is rich in fruits and vegetables, and in many ways echoes the elements that the Department of Health and Human Services recognizes as key components of healthy eating patterns.
Because WW ZeroPoints foods are meant to form the fundamental building blocks of a healthy lifestyle, they don't include refined foods like crackers. But if you've exhausted your points budget for the day and are still craving the satisfying crunch of a cracker, perhaps one of these healthful Weight Watchers snacks from the ZeroPoints list will hit the spot:
Baked broad (fava) beans

Freeze-dried vegetables (check the bulk bin at your grocery store)
Beet chips (make sure beets are the first ingredient, not flour)
Edamame (in pods or shelled)
Dried seaweed snacks
Pumpkin seeds
Quick Overview of WW Points
If you're not familiar with the Weight Watchers (now known as WW) SmartPoints system, here's a quick orientation to get you started. WW uses its algorithms to assign you a personal SmartPoints budget; you can eat anything you want as long as your total intake stays below your points budget for that day.
You can calculate any food's SmartPoints value by using the WW mobile app or, if you prefer, using an online Weight Watchers points calculator. Foods that are low in sugar and saturated fat score lower in the SmartPoints ranking, whereas processed foods that are higher in sugar and saturated fats — including many types of crackers — rank higher.
Is the effort of tracking your points worth it? According to a systematic review published in an April 2015 edition of the Annals of Internal Medicine, it can be. The researchers evaluated 39 randomized, controlled clinical trials and found that Weight Watchers participants consistently lost more weight than control participants or those who received weight-loss education only. That said, it's worth noting that some of the studies on Weight Watchers efficacy received funding from, or authorial credit to, the Weight Watchers organization.
But in more general terms, the SmartPoints system is a way of encouraging appropriate calorie restriction which, as the National Heart, Lung and Blood Institute points out, is a big part of what most people need to lose weight. The other part of the puzzle is increasing your physical activity, which Weight Watchers also helps you track using something called FitPoints.