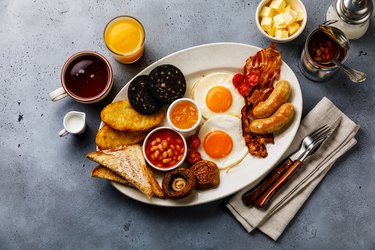 Some people think the best way to cook breakfast sausage is the oven method, while others may prefer to cook it on the stove top or on a griddle. Whichever method you choose, save it for an occasional treat rather than making it a daily indulgence.
Tip
To cook raw sausage links in the oven, roast them in a 400-degree-Fahrenheit oven for about 15 minutes, turning them once. Then broil them for two to three minutes on each side.
Breakfast Sausage in Oven Directions
LIVESTRONG.com interviewed Chef Palak Patel of the Institute of Culinary Education to get instructions on the best way to cook breakfast sausage. Other cooking options are available, but the oven method may be the simplest and the least messy. Regardless of how you cook them, if the sausages are frozen, thaw them in the refrigerator first.
Cooking sausage in the oven involves a two-step process of baking and broiling, Patel says. "To bake, preheat the oven to 400 F. Place the defrosted sausages on a baking sheet or baking pan with a rack. Roast until the sausages are glistening but not yet browned, about 10 minutes. Turn the sausages over and roast until cooked through, about five minutes more."
Alternative Sausage-Cooking Methods
If you prefer a stove top method of cooking sausages, start them in a saucepan over medium heat with a little water, Patel advises. "Add up to 1/4 cup more water for thicker sausages. Bring the water to boil, put on the lid, and cook 10 minutes. Take off the lid and continue cooking over medium heat, turning every two minutes or so until golden brown. Breakfast sausage internal temp should reach 160 F."
MeatSafety.org says that after you parboil sausage, you may fry it in a pan, which will help give it a crispy exterior. You may also grill it slowly over coals, turning frequently.
To cook in the microwave, place four defrosted sausages in a microwave-safe container, close the lid and set the power to 40 percent. "Cook four minutes, turn with tongs and then cook another four minutes," Patel adds. Don't use the microwave method unless the package directions suggest it as a safe way of cooking the sausage.
Sausage Nutrition Information
Because breakfast sausage comes in different sizes and is made of different meats, the nutritional information will vary. According to the USDA, one brand of raw pork sausage has the following nutrients per 3-ounce serving: 330 calories, 9.98 grams protein, 31.6 grams total fat, 0.60 grams carbohydrates and 839 milligrams sodium.
Since sausage is meat, it's a source of protein, but it's often high in fat and sodium. It contains almost no carbohydrates. USDA Choose My Plate reports that the recommended portion size is approximately 3 ounces, so check the label of your sausages to see how many ounces they have in each serving.
Instead of eating sausage every day, it's best to save it for an occasional treat. Adverse health effects are associated with regular consumption of red meat, especially varieties that are processed like some kinds of sausage, states the National Cancer Institute. Try to pick sausages made of turkey instead of pork or beef.