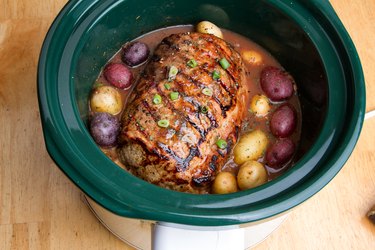 Cooking an arm roast in the oven can save you time, which is great news when you're trying to put dinner on the table after a long day at work. Plus, it's versatile and flavorful. So, it's an excellent choice for pot roast, or you can cut it up and add it to your favorite beef stew recipe.
Bake an Arm Roast in the Oven
One of the best features of an arm roast is the flexibility it provides when it comes to cooking. In addition to baking an arm roast in the oven, the University of Nebraska-Lincoln says you can braise, grill, pan-broil, pan-fry, or broil a chuck arm roast, although braising seems to be the top pick, especially if you want tender arm roast.
If you're baking a beef roast in the oven, it's best to use the roasting method. That said, the amount of time it takes to reach a safe internal temperature of 145 degrees Fahrenheit will vary depending on the thickness of the meat.
Chuck Roast Ideas
Searching for the perfect cut of meat is only half the battle. You also need to know what to do with it when you get home. The good news? There are a ton of chuck roast ideas that will satisfy your meat craving.
Safety and Purchasing Tips
When purchasing arm roast, look for a packaging label that also contains nutritional information. According to the Academy of Nutrition and Dietetics, major cuts of single-ingredient, raw meat must have a product label that contains nutrition information, such as total calories, calories from fat, total fat, saturated fat, cholesterol and total carbohydrates.
Prepping and cooking beef at home requires knowledge of food safety. In order to kill the harmful bacteria in raw meat and reduce the risk of foodborne illnesses, the Centers for Disease Control and Prevention says you need to wash surfaces before, during and after preparing food; separate raw meat from other ready-to-eat foods; cook food to the right internal temperature; and store leftovers in the refrigerator within two hours of cooking.
The right internal food temperature for beef, according to the USDA Food Safety and Inspection Service is 145 F, as measured by a food thermometer. Make sure to let the meat sit for three minutes before checking the temperature.