A cut from the beef chuck primal, arm roast is also called round bone pot roast, arm chuck roast and arm pot roast. Though braising is often the preferred method for cooking an arm roast, marinating followed by slow baking will yield a tender flavorful roast. Just make sure you purchase an arm roast labeled "prime" or "choice."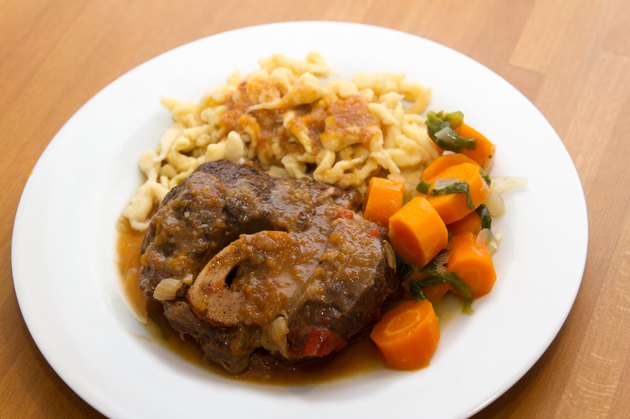 Step 1
Pierce the arm roast all over with a sharp knife. Place the roast in a resealable plastic bag.
Step 2
Mix the canola oil, soy sauce, vinegar, orange juice concentrate, scallions, garlic, ginger root, black pepper and hot pepper in a small bowl. Pour the marinade over the roast in the bag. Seal the bag and turn it over a few times.
Step 3
Place the bag in the refrigerator and allow it to marinate for two to five days. Turn the roast occasionally.
Step 4
Place the marinated roast on a rack in a roasting pan. Insert the meat thermometer into the thickest part of the roast. Make sure it is not touching any pocket of fat.
Step 5
Roast the arm roast at 300 degrees Fahrenheit for about 20 to 25 minutes per pound for medium doneness. The baking time will depend on the size of the roast, whether or not it is aged and how well cooked you like your beef. The U.S. Department of Agriculture recommends beef reach at least an internal temperature of 145 F before removing it from the oven.
Step 6
Allow the roast to rest for five to 10 minutes before carving.
Things You'll Need
Sharp knife

1/2 cup canola oil

1/4 cup soy sauce

2 tbsp. cider vinegar

2 tbsp. frozen orange juice concentrate

2 scallions, chopped

2 cloves garlic, minced

1 tbsp. minced ginger root

1 tsp. freshly ground black pepper

1/2 tsp. hot pepper sauce, or more if desired

Roasting pan with rack

Meat thermometer
Warning
Never marinate meat at room temperature.