Hypotension occurs when blood pressure is much lower than normal. Low blood pressure can be dangerous, especially if it is a chronic issue, because the brain, heart and other organs do not get enough blood and oxygen to function as they should. Exercise is beneficial for hypotensive individuals, though some precautions must be observed.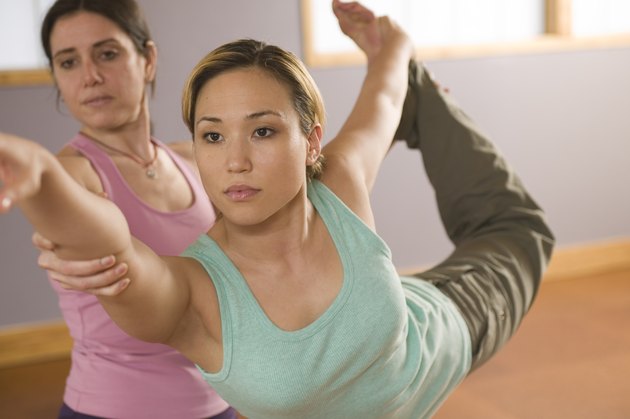 Symptoms
Low blood pressure can produce a variety of symptoms depending on severity. Individuals may not notice any symptoms at all if the drop in blood pressure is not very substantial. Dizziness, lightheadedness, nausea, blurred vision, thirst, and cold, clammy or pale skin can all be indicative of drops in blood pressure. If blood pressure drops quickly or drops too low, fainting may occur.
Hypotension During Exercise
Generally, the blood pressure responds to exercise by exhibiting an increase. Systolic blood pressure, the top number of a blood pressure measurement, is the value that increases while the lower diastolic measurement generally stays the same or may even decrease slightly. Systolic pressure values that decrease during exercise are indicative of hypotension. Hypotension during exercise could mean that individual have a condition called aortic valvular disorder or severe heart disease. Hypotension during exercise should be closely monitored by medical professionals. Exercise may need to be discontinued or altered to help avoid decreased oxygen delivery and fainting.
Hypotension After Exercise
Drops in blood pressure are fairly common after exercise for short periods of time, especially if an individual exercises at their maximal level. Systolic pressure levels will decrease to an individual's resting level for five to six minutes after exercise is discontinued and will then drop to a lower level than they measured pre-exercise. This lower value will often be maintained for a few hours. In the event that blood pressure levels do not return to normal after a few hours, medical attention should be sought.
Special Considerations
Individuals with hypotension can exercise safely if a few precautions are taken. Exercise may even help increase blood pressure values slightly. The biggest area of concern for individuals with hypotension is quick postural changes. Exercises such as yoga, in which you transition from one position to another quickly or have your head below the level of your heart, can negatively impact your blood pressure values. This can intensify symptoms and could result in fainting. Individuals should be careful to make postural transitions slowly. Avoiding exercises in which the head is below heart level may be necessary for some individuals, especially if they notice intensified symptoms. Any concerns or changes noted during exercise should be documented and discussed with a medical professional.