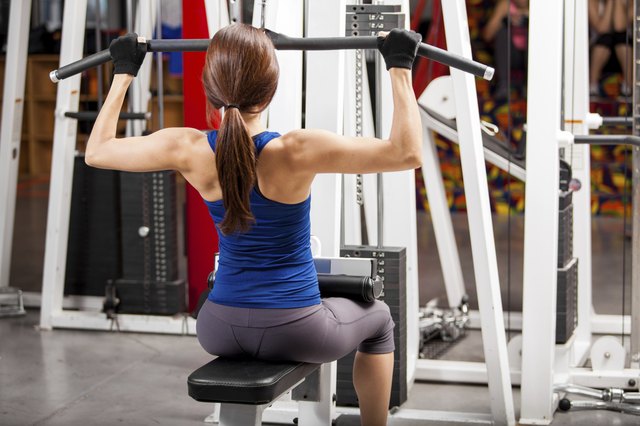 When discussing traps that are too big, the upper traps are generally the part of the muscle of interest. Large traps can give your upper back and shoulders a rounded appearance and, while this may be a fitness goal for some, it can be a hindrance to others. Large traps may cause women to look too masculine and also have the potential to create muscle imbalances, which have been shown to lead to joint instability and injury. Aside from completely abstaining from training, there are a few things you can do to decrease the size of your trapezius.
Alter Training Techniques
Alter your training program a bit to decrease the load placed on your trapezius. High volume and heavy loads are necessary for hypertrophy, or muscle growth, to occur. To decrease the size of your traps, reduce the weight you're using. Your volume will still have to remain relatively high to ensure an adequate workout. For example, drop your weight to 50 percent of your one-repetition maximum and aim for three sets of at least 12 reps.
Modify Other Muscles
Rather than decreasing the actual size of your trapezius, it may be easier to simply make your traps appear smaller. This can be accomplished by increasing the size of your deltoid muscles. The deltoids make up the roundness of the shoulders and can be targeted using exercises such as presses, front and lateral raises, rows and flys. To increase the size of these muscles, use 85 percent of your one-repetition maximum for three to six sets of six repetitions.
Curtail the Calories
Muscle tissue requires a considerable amount of energy to sustain and maintain itself. In order to decrease the amount of muscle tissue in your body, reduce the amount of energy you take in on a daily basis. Reduce your daily calories by 250 per day and add in some moderate-intensity cardiovascular exercise to further increase the caloric deficit. Once your traps run out of fuel, a decrease in muscle fiber size will result. Note that this loss of muscle will also occur throughout the rest of your body, not just your trapezius. Just like spot-reduction with fat loss, spot-reduction with muscle is not feasible.
Acknowledge the Limitations
The trapezius is a tricky muscle to target when aiming for decreases in muscle size. Yes, there are exercises that directly target the muscle -- shrugs in particular -- that can be altered or avoided. But there is no way to completely abstain from training your traps with heavy weights unless you're willing to compromise muscle mass throughout the rest of your body. Exercises such as deadlifts, cleans, snatches, squat variations and kettlebell swings, along with several others also work the traps. Reducing the weight used to perform these exercises will decrease the size of your traps but will also result in smaller muscles in the other parts of your body.