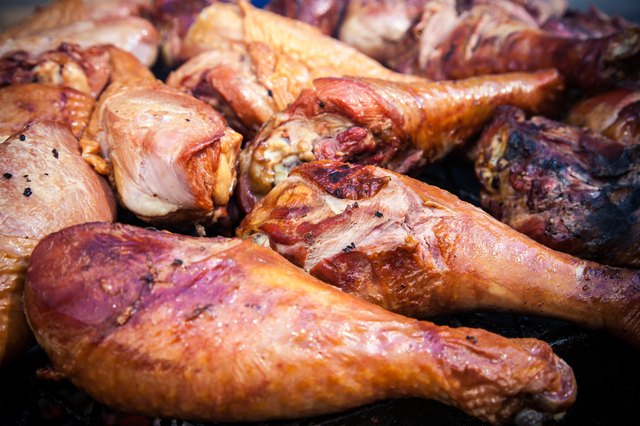 A low-carb diet restricts your intake of sugars, starchy vegetables, breads, pasta, grains and cereals. A no-carb diet, however, disallows all carbs, even trace carbs from fibrous vegetables, most cheese and condiments. The menu includes a variety of meats, offal -- organ meat -- and fat, making it extremely challenging to be completely zero-carb and get all the nutrients you need. A week is unlikely to leave you nutritionally deficient, but always check with your doctor before starting such an extreme plan. You will experience side effects from a no-carb regimen, especially if you are accustomed to eating a fair number of carbs.
Why Go Carb-Free?
A week on a no-carb or near no-carb diet kick-starts the process of ketosis, in which your body runs off fatty acids and produces ketones to fuel the brain. A ketogenic diet does not have to be zero-carb. A very restrictive low-carb diet achieves the same results, but still permits you up to 50 grams of carbs per day -- mainly from watery vegetables, scant servings of nuts, cheese and cream in your coffee. If you enjoy eating tons of meat and fat, however, you could survive on a no-carb plan for a week. To see any of the positive effects from limiting or eliminating carbs, though, you'll need to stick with the diet for more than one week.
Ketogenic no-carb and extremely restrictive low-carb diets do support weight loss, stabilize blood sugar and alleviate symptoms of some neurological problems. Certain indigenous peoples, such as the Inuits, who live in the far northern regions of Alaska, Canada, Siberia and Greenland, survive on a mostly no-carb plan that consists of fat and protein. To ensure optimal nutrition, these populations eat the whole animal, not just muscle meat like steaks. They also consume a lot of their protein raw.
Foods Allowed on a Carb-Free Diet
Meat is definitely allowed on a no-carb plan. This makes up much of the meal plan and includes beef, pork, fish and chicken as well as less commonly consumed wild game, such as elk, bison, venison, pheasant and duck. Offal, or organ meat, is also encouraged. Kidneys, glands, stomach contents and animal fat are essential in a no-carb plan as they offer important variety in your nutrient intake. Look for grass-fed or naturally wild specimens to avoid contamination from pollution, antibiotics or processed feed.
Healthy forms of fat are also part of a successful no-carb diet; they keep your body fueled and healthy. Cold-pressed oils -- such as walnut, avocado, olive and coconut -- are optimal. While avocados and nuts are healthy sources of fat, they contain small amounts of carbohydrates.
Sample Week of No Carbs
Breakfast on a no-carb diet might consist of bacon with egg whites, as the yolk contains some trace carbs. On other days of the week, you could have a serving of grilled salmon, a ground beef patty or chicken thighs with the skin. Baste these meats with a little coconut oil before cooking to get extra fat.
Lunch and dinner are made up of similar foods. For a meal of sauteed beef kidneys or roast duck, season with dried Italian seasoning, chili powder, melted butter or plain sea salt -- all of which add zero carbs, but do provide flavor. Snacks throughout the week consist of a can of oil-packed sardines or tuna, pork rinds or an ounce of havarti or manchego cheese -- both cheeses without carbs.
Stay away from calf's liver, as it contains 9 grams of carbs for a 6-ounce serving, and chicken liver with 1.3 grams of carbs per 4 ounces. Processed meats, such as hot dogs, sausage, turkey bacon and honey ham, also contain carbohydrates from fillers and sugars used in the curing process.
Concerns with a No-Carb Diet
Dealing with limited food choices presents the greatest challenge when following a no-carb diet. Finding a variety of pasture-raised, wild or grass-fed meats and their organs can be difficult. It's only a week, but maintaining the diet can be a struggle at social events, at work and during travel.
A no-carb plan can have serious, short-term effects on your energy, physical performance and mood. You'll likely be cranky and tired and suffer headaches for most of the week. Certain groups, such as people with kidney disorders or pregnant and breastfeeding women, should not go no-carb, even for short periods.
Ask yourself whether your reason for going no-carb is valid. You can get some of the same benefits by eating a very low-carb ketogenic diet that offers a bit more variety. A ketogenic diet permits a small number of carbs, allowing you to eat moderate portions of full-fat dairy, nuts, whole eggs and avocados.