The Thanksgiving spread was just too tempting, and you ate three helpings of Grandma's sweet potato casserole, or maybe you spent the evening at the county fair and indulged in high fat, high sugar treats from one end of the midway to the other. Whatever the reason, eating too much food can have some unpleasant side effects, ranging from simple discomfort to heartburn, indigestion and constipation. The only cure in most cases is time, but there are some simple remedies that can help you feel more comfortable.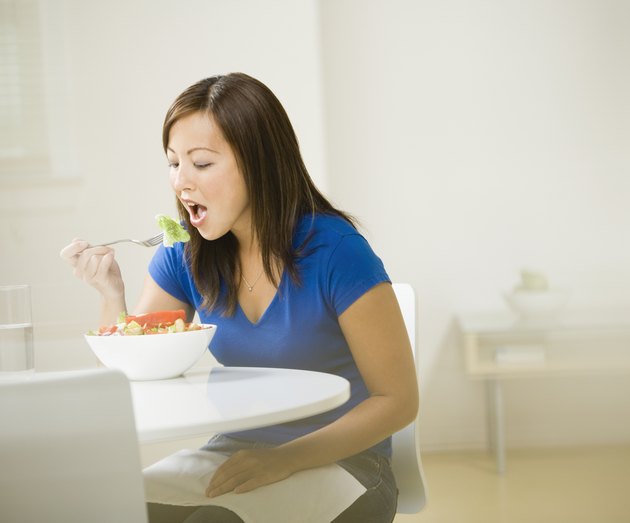 Basic Treatment
Time is really the only cure for the discomfort of overeating; you have to give your body time to digest the meal. When you've eaten too much, your first instinct might be to go lie down and groan about how much you've eaten. Lying down, though, can increase your discomfort and possibly contribute to acid reflux or heartburn symptoms. Instead, stay upright or go for a walk. Avoid vigorous exercise after a huge meal, but taking a stroll around the block can help relieve your discomfort. Drink plenty of water as well to help prevent constipation and stick to light, low-fat meals for the remainder of the day.
Antacids
According to the National Institutes for Health, over-the-counter antacids are generally the first recommendation for indigestion or discomfort in the digestive system. Most of the common antacids use a combination of salts to neutralize stomach acids. Some brands add calcium for an extra nutritional boost. Always follow the manufacturers' instructions for using antacids, and do not use more than is recommended for an extended period. The ingredients in antacids can cause diarrhea or constipation if used improperly.
Acid Reflux or Heartburn
Another common result of overeating is heartburn or acid reflux. When you eat too much, your stomach has to produce more acid to digest the food, increasing your chances or acid reflux or heartburn. If you have symptoms of heartburn, there are several over-the-counter medications that might relieve your symptoms. Over-the-counter drugs are H-2 receptor antagonists, which block the action of histamine on parietal cells in the stomach to reduce stomach acid; stronger drugs, such as proton pump inhibitors, are available by prescription, but are generally reserved for those experiencing long-term acid reflux. These drugs take longer to work than antacids, but last longer. Always follow the dosage instructions.
Prevention
The effects of overeating are so uncomfortable that many people claim they will never eat again after indulging in a feast. While that's certainly not feasible, you can avoid a repeat performance. Try to eat several smalls meals throughout the day, and if you know that you'll be going somewhere that will have an abundance of food, such as a party, eat a healthy high fiber and protein snack before you leave. This helps you avoid the extreme hunger that often leads to overeating and guides you toward making better food choices. Eat slowly; it can take up to 20 minutes for your brain to register that your stomach is full, and eating too fast can lead to overeating.