It is a common misconception that medications available over the counter are safe for anyone to take. Individuals with hypertension should be aware that these readily available medications can have an impact on the control of their disease. Naproxen sodium is an oral medication that is part of a larger family of nonsteroidal anti-inflammatory drugs, or NSAIDs. Naproxen and other NSAIDs are associated with several different types of side effects, but pertinent to this discussion is the impact on blood pressure control.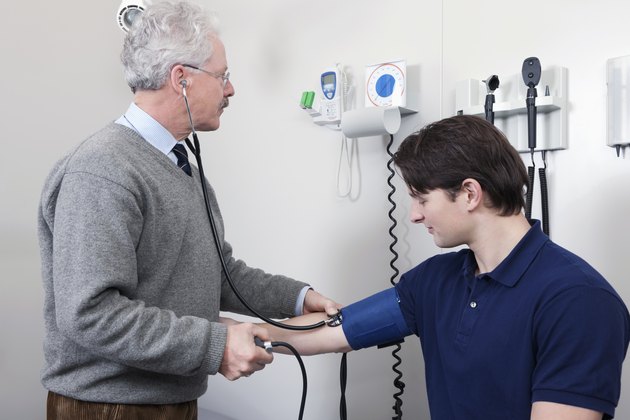 Mechanism
Naproxen and other NSAIDs work by blocking the action of cyclooxygenase (COX) enzymes that produces prostaglandins (PGs). Prostaglandins lead to increased blood flow which is associated with inflammation. This blockage of the production of prostaglandins is what makes these medications so effective in the setting of inflammation (i.e. when you twist your ankle). Unfortunately this action leads to worsened high blood pressure. High blood pressure is a complicated state involving many hormones and ultimately leads to constriction of blood vessels. Remember that prostaglandins leads to dilation of blood vessels, so when this is blocked constriction can be worsened.
One Trial
Let's look at what happens when NSAIDs are taken by people with high blood pressure. In 2008, Michael E. Farkouh, et al. published the results of a trial involving 18,244 participants taking one of the following NSAIDs: lumaricoxib 400 mg daily, ibuprofen 800 mg three times a day or naproxen 500 mg twice a day. Participants were followed for 52 weeks and in all three groups there was between 7.6 percent and 10 percent incidence of worsened blood pressure control. New onset high blood pressure developed in 5-7.8 percent of participants. For an in depth review of the literature, please see the article by Stanley Snowden, et al. listed in the Reference section.
Risk Factors
Not everyone exposed to NSAIDs will develop worsened blood pressure control. Those considered at higher risk are those with high blood pressure, older than 64, obese, male and with diabetes. The type of anti-hypertensive medication may also play a role. It appears that medications called calcium channel blockers are less associated with worsened hypertension in comparison to other common medications include beta-blockers, diuretics, angiotensin-converting enzyme inhibitors and angiotensin II receptor blockers.
Conclusion
Naproxen is a powerful medication that can be easily obtained over the counter. It has been shown to have a detrimental affect upon blood pressure control and can lead to high blood pressure in individuals without hypertension when used for an extended time. If you have a chronic medical condition, such as high blood pressure or are at risk, discuss all medications, over the counter or prescribed, with your healthcare provider.