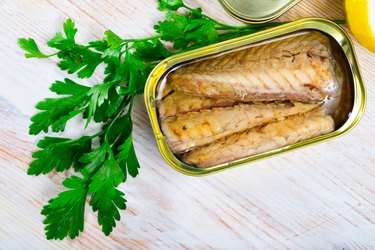 Mackerel is a small, oily ocean fish that is high in heart-healthy omega-3 fatty acids and low in mercury, making it a popular choice among health aficionados. Easy to find in shelf-stable tins, canned mackerel is a versatile staple in a healthy pantry.
Use canned mackerel in your canned fish recipes — everything from soups to fish cakes, stir-fries and spreads — the possibilities are endless.
Canned Mackerel — The Basics
Canned mackerel is similar to sardines, but the fish's bones tend to be bigger. Mackerel should always be prepped in the same way before cooking with it.
Open the tin and drain the water or oil. Remove the large bones and tough pieces of skin and fins. Don't worry about getting all the bones — the small ones are soft and completely edible.
Canned mackerel is a good source of protein. According to USDA FoodData Central, a 3.5-ounce serving provides the following nutrients:
140 calories
17 grams of protein
8 grams of fat
300 milligrams of calcium
According to Cleveland Clinic, mackerel is among the healthiest types of fish — as long as its the kind that comes from Alaska.
Stir Into Soup or Stew
Mackerel can be used in any kind of seafood soup or stew. Traditionally, canned fish is used in many Southeast Asian soup recipes — think curry and lemongrass. But there's no need to get stuck in a rut. Mackerel can be used in almost any kind of soup base.
A simple soup can by made by sauteing onions and garlic, then adding a can of tomatoes. Cover with water to make a broth, then add in diced veggies of your choice. Add prepared canned mackerel and bring to a simmer. Season with salt, pepper and other spices as desired.
Make Fish Cakes or Croquettes
Mackerel can be used in fish cakes or croquettes. Substitute mackerel for whatever fish is called for, but cut back on added oil. Since mackerel is high in oil, it can make the dish greasy. Opt for baked recipes instead of fried.
For a simple base, mix mashed potatoes with smashed mackerel, an egg, finely diced veggies and spices. Form into patties and dredge in bread crumbs, then bake on a sheet prepared with non-stick spray until golden brown.
Try Stir-Fry and Casseroles
Mackerel is a terrific protein for stir-fries. Saute veggies on high in oil until just tender. Lower heat briefly and mix in soy sauce and Asian style seasonings such as garlic, sesame oil and ginger.
Remove from heat and toss in the flaked mackerel. Serve over a bed of rice or noodles.
Use mackerel in place of other meat in a favorite casserole. Mix mackerel with cream cheese and herbs to make a nice cracker spread, or get fancy with creme fraiche, whipping cream, or other light ingredients to make mackerel pate or mousse.
Add mackerel flakes to homemade pizza, or even mix it with canned tuna for a decked out tuna salad sandwich.