Companies tout the benefits of slimming tea for weight loss, but health authorities don't recommend taking diet products. Whether slimming teas are consumed on an empty stomach or a full stomach, they likely won't help with weight management.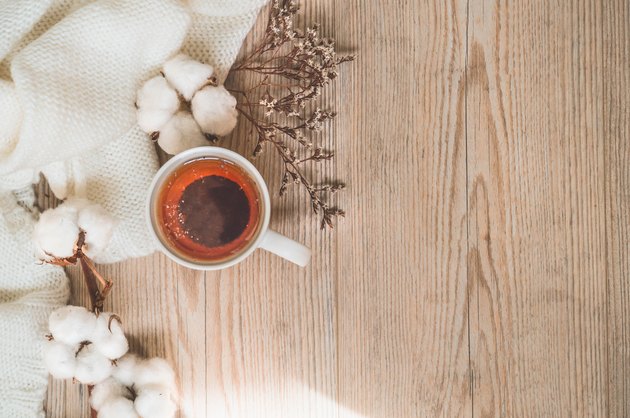 Tip
Slimming tea is unlikely to help with weight loss, and it may contain ingredients that pose a health hazard.
Green Tea for Weight Loss?
Some slimming teas contain green tea, which is known for the multiple health benefits it confers. However, research shows that green tea has little, if any, effect on weight loss. A May 2014 study published in the Canadian Pharmacists Journal said that green tea is one of the most common ingredients in weight loss products in Canada. After reviewing randomized controlled trials that explored the effect of the tea on weight, the study found any weight loss associated with the beverage wasn't large enough to be significant.
People interested in trying green tea could certainly drink several cups per day. The National Center for Integrative and Complementary Health says that drinking moderate amounts of the beverage is safe. Except for decaffeinated green tea, it contains caffeine, which can cause nervousness and interfere with sleep. The tea may impart various wellness advantages, but it won't produce a noticeable effect on weight.
No Benefit of Slimming Tea
There are many weight loss teas on the market. One example is Closemyer Slimming Green Tea, which, in addition to tea, contains the bowel-stimulant senna. According to Truth in Advertising, weight loss teas are often based on senna, an herb with a laxative effect.
Cornell University says laxatives flush wastes from the intestines, but they don't flush calories from the body. Laxatives like senna cause several adverse effects, including dehydration and electrolyte imbalances. Senna can also lead to constipation, because it causes the intestine to become ineffective at moving stools.
It's best to steer clear of slimming teas and other weight loss products, advises the National Institute of Health. Their ingredients often haven't been studied for safety and efficacy.
The Federal Trade Commission states that the claims made by such products are often inflated, and they can have dangerous side effects. Before taking a slimming tea or similar product, it's best to consult your health care practitioner.
Alternatives to Slimming Teas