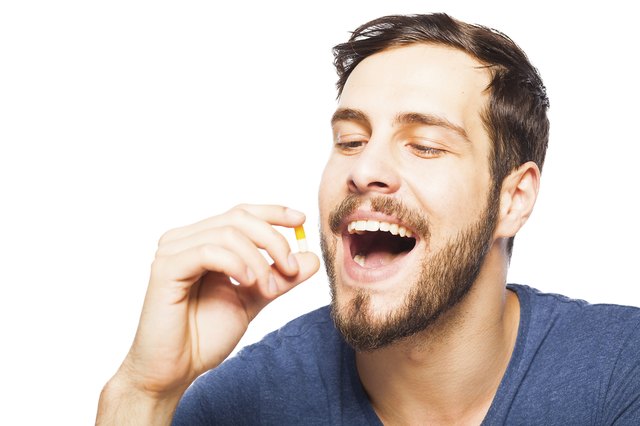 Ideally, you'd get most of the vitamins and minerals you need for good health by eating a balanced diet. But many men have a hard time eating right, says the Palo Alto Medical Foundation. Taking a multivitamin such as One-A-Day's men's formula may help you get what you need if you feel that your diet falls a little short.
Men's Health Formula
One-A-Day Men's Health Formula multivitamin is a complete multivitamin for men. The multivitamin contains more than 20 different vitamins and minerals and meets 100 percent or more of the daily value for vitamins C, D, B-6 and B-12, riboflavin, folic acid, pantothenic acid, zinc, selenium, copper, manganese and chromium. The Men's Health Formula also contains vitamins E and K, calcium, thiamin, niacin, biotin and magnesium.
The One-A-Day multivitamin formula is an excellent source of vitamin D, which many men have a difficult time getting in their diet, according to the Office of Dietary Supplements. Men need vitamin D for bone and immune health.
Men's 50+ Healthy Advantage
One-A-Day Men's 50+ Healthy Advantage is also a multivitamin and mineral formula like the Men's Health Formula, but it contains a higher amount of antioxidants, which may protect cells from certain types of damage. Antioxidants found in the multivitamin include vitamins C and E, beta carotene, selenium and manganese. This vitamin formula also contains higher amounts of the B vitamins compared to the Men's Health Formula.
Men's Pro Edge
One-A-Day's Men's Pro Edge vitamin formula is designed for men who engage in regular exercise, according to the One-A-Day website. This formula differs from the other formulas in that it provides more than 100 percent of the daily value for all of the B vitamins. The B vitamins are important for energy production and work by helping turn the food you eat into fuel for your cells.
An adequate intake of B vitamins is especially important for male athletes who restrict their caloric intake for weight loss, according to a 2006 report published in the International Journal of Sport Nutrition and Exercise Metabolism. Being active while not taking in enough calories increases the risk of certain B vitamin deficiencies.
Men's VitaCrave Gummies
If you have a hard time swallowing your vitamins or like a sweet treat that offers a bit of nutrition, One-A-Day offers a gummy multivitamin. While this vitamin contains a variety of nutrients essential to health, it is not as complete as the other formulas. Additionally, the first two ingredients are glucose syrup and sucrose, which are added sugars. While it's OK to consume a small amount of added sugar -- about 6 tablespoons per day for men -- it's important to keep track of all the sugar sources, even those from your vitamins, to avoid exceeding your intake limit.