Walking up and down the stairs is an excellent replacement for walking. Both activities elevate your heart rate and, depending upon your pace, burn calories quickly. In most cases, you will increase the intensity of your workout by climbing stairs because the act of lifting your legs to scale steps also strengthens your gluteal, thigh and calf muscles. If you have knee or ankle problems, consult with your doctor before implementing a stair-climbing exercise regimen.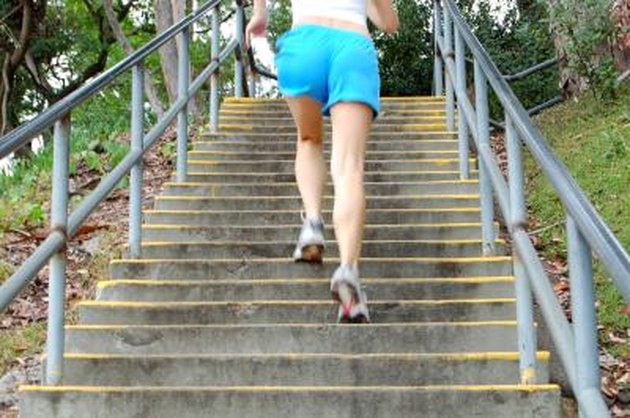 Burning Calories
Walking up and down stairs burns more calories than walking on a flat route at a moderate pace. Walking downstairs burns between 175 and 275 calories per hour, depending upon your weight. Climbing upstairs burns 530 to 835 calories per hour. The average calories burned of these two activities is 355 to 555 calories per hour. In comparison, you burn 175 to 275 calories walking a 20-minute mile and 295 to 465 walking a very brisk 15-minute mile.
Interval Training
The varied intensity of walking up and down stairs makes it an interval-training workout. This means you spike your heart rate as you climb stairs and rest and recover as you descend the stairs. However, your heart rate remains higher, even while you descend, then it would if you worked out at a moderate pace for the entirety of your workout. Make your intervals more intense by safely jogging some of the stairs on the way up or stopping at the top of the stairs to do some squats or jumping jacks.
Full-body Workout
Unlike walking on a flat route, climbing stairs has the potential to offer a full-body workout. Walking up and down stairs targets your major muscle groups. Pumping your arms while climbing allows you to tone your upper body and burn more fat. Breathe deeply and contract your abdominal muscles and you gain stability while strengthening your core. The more muscle you build, the higher you raise your basal metabolic rate so that you burn more calories around the clock.
Making it Lower Impact
The act of ascending and descending stairs impacts your knees, ankles and feet repeatedly. Make the exercise lower impact and safer by taking several measures. First, invest in shoes that have good ankle and heel support as well as padding in the sole for shock absorption. Spend at least 10 minutes slowly warming up for stair-climbing by marching in place and doing some high knee lifts. Bring your feet down softly on the steps rather than stomping. Hold your body straight and contract your abdominal muscles when descending the stairs so you avoid leaning on the railing. If you find the workout still too high-impact, consider using an elliptical trainer, which emulates stair-climbing but keeps your feet in contact with the pedals at all times.