When it's working properly your gallbladder -- a small organ below your liver -- releases bile into your small intestine to help digest fat from the foods you eat. However, gallbladder disease can occur when your gallbladder becomes inflamed, or when pebble-like substances, called gallstones, become large enough to block bile ducts. If this is the case, you may feel pain in the upper-right side of your abdomen after meals and find that you can no longer tolerate fatty foods. Dietary changes can help reduce symptoms.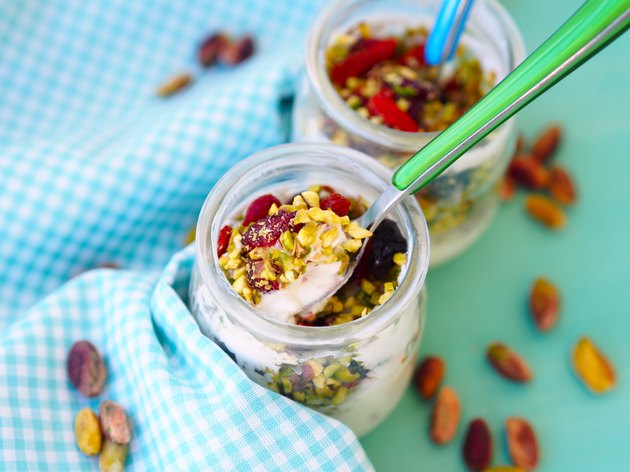 Reducing Your Fat Intake
Physicians recommend that those with gallbladder disease follow a low-fat diet. The amount of fat you can eat each day and at each meal depends on your individual tolerance. Most people with gallbladder problems can tolerate about 40 to 50 grams of fat per day, according to Hartford Healthcare. This may be a good place to start if your doctor hasn't set a specific range for you.
Planning Low-Fat Breakfasts
Many of the typical breakfast foods may trigger symptoms because of their elevated fat content. Breakfast foods to avoid include waffles, pancakes, muffins, pastries, quick breads, doughnuts, fried bread and fried dough. Hartford HealthCare recommends that you also avoid baked goods made with whole milk, egg yolks, nuts and those containing more than 2 grams of fat per serving. Processed meats are typically high in fat, so avoid sausages, bacon, luncheon meats or any other fatty or fried meats.
Good Breakfast Options
Most fruit and vegetables provide good breakfast options on a gallbladder disease diet because they typically contain little to no fat. An exception is avocado, which is rich in healthy fats. If you have avocado with your breakfast, limit it to one-eighth of the fruit. You can have whole grains such as oatmeal and whole wheat bread. When it comes to dairy, choose foods made with skim milk. Trim any visible fat from meats and avoid frying or cooking in oil. You can bake or broil meats or use cooking spray. Limit eggs to one per day and avoid fried eggs.
Breakfast Ideas
Some breakfast ideas to get you started include oatmeal with banana, a slice of whole wheat toast and 8 ounces of apple juice, or a bowl of mixed fruit with a cup of low-fat yogurt and four to five nuts. You can also try a veggie scramble using one egg and your favorite vegetables, prepared with cooking spray. Other options include whole grain muesli with low-fat milk, topped with strawberries and a slice of whole wheat toast.