Gallbladder disease, gallstones and gallbladder attack can all cause painful symptoms that ebb and flow. You can survive without your gallbladder, a pear-shaped organ situated underneath your liver, so your doctor may recommend removal if it frequently causes you pain. You can also help reduce symptoms by eating certain foods and avoiding others.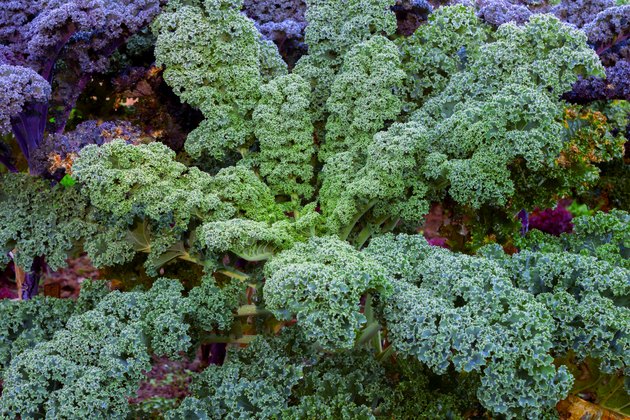 Function of the Gallbladder
Your gallbladder stores bile produced by the liver. After you eat, a hormone triggers the release of bile from the gallbladder into the small intestine, where it helps break down fat molecules into smaller particles that can be absorbed into the bloodstream. Your liver can still produce bile without the gallbladder, but instead of being stored in the gallbladder, the bile will simply continuously drip directly from the liver into the small intestine.
Gallbladder Problems That May Occur
Gallstones are a common gallbladder problem affecting 20.5 million Americans, according to the Scientific American website. Up to 80 percent of people with gallstones won't experience symptoms, but the other portion will experience inflammation and pain. This usually occurs when a large gallstone is obstructing a passageway in the gallbladder. Pain may occur in the upper right portion of the abdomen and may be more common after eating meals high in fat. You may also experience nausea, vomiting and lack of appetite.
Foods and Drinks to Include
The University of Maryland Medical Center recommends eating certain foods to minimize symptoms during a gallbladder attack. These include foods rich in B vitamins and iron, such as whole grains like brown rice, dark leafy greens like kale and sea vegetables like kelp. You should also eat foods high in antioxidants such as berries, tomatoes, squash and bell peppers. Opt for lean meats such as chicken and fish, and cook with healthy, plant-based oils like olive oil or coconut oil. Eating more fiber from fruits, vegetables and whole grains can also be helpful. UMMC suggests making a high-fiber drink by mixing 1 heaping tablespoon of flaxmeal with 8 ounces of apple juice. Drink six to eight glasses of water each day. Although some evidence shows that caffeine may reduce the risk of gallstones, UMMC says study results are mixed and advises discussing your caffeine intake with your doctor.
Foods and Drinks to Avoid
Lessen the burden on an inflamed gallbladder by avoiding high-fat foods such as red meat and fried foods. Eliminate trans fatty acids, also called hydrogenated oils, from your diet by avoiding commercial baked goods and margarine. Eggs can be especially irritating to the gallbladder, UMMC reports. Avoid processed and refined foods including white pasta, white bread, white rice, snack foods and desserts. Also avoid sugary drinks and alcohol.