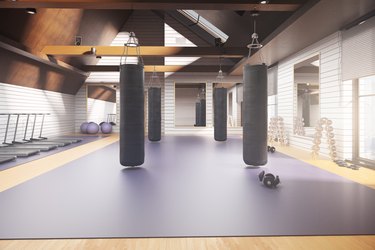 Opening an amateur boxing club or gym is, in many ways, like opening any other small business or nonprofit. It can be a challenging undertaking, involving a great deal of research.
Unfortunately, much of the information that you find may not include the specifics of owning a boxing club or gym. For that, you may need to contact the owners of other boxing clubs in locations that will not compete with your own.
Step 1
Check with your state or local boxing commission for regulations governing boxing gyms in your area. These regulations vary widely among jurisdictions, especially for amateur clubs. Make sure you are in compliance with all of these regulations before you start planning your business.
Step 2
Secure liability insurance and worker's compensation insurance for your boxing club. Because boxing is a combat sport, insurance is an important — and expensive — part of your business plan.
Step 3
Find a facility with high ceilings and plenty of open floor space. This can be difficult in an area that focuses on office space and retail. Industrial parks can be a good location for a boxing gym, and they combine large spaces with lower rents than a retail mall.
Step 4
Think about what equipment is vital to your school/gym and then research how and where to get it. Scour popular boxing facilities to take note of the kinds and quality of equipment they offer. Secure financing for equipment if your budget falls short of the mark.
Step 5
Establish membership rates and a class and/or training curriculum. Have a clear goal and a clear philosophy about what you want to promote and accomplish through your facility. Be aware of your chosen demographic and price accordingly.
Step 6
Consider membership in martial arts trade associations like Member Solutions and the National Association of Professional Martial Artists. These groups provide contacts, equipment discounts and coaching on how to make the most of a limited budget while simultaneously keeping your curriculum up-to-date.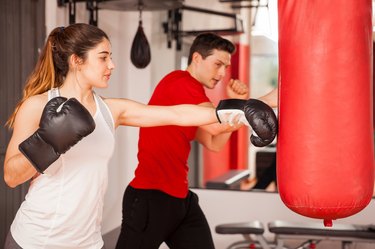 Step 7
Offer free lessons at churches, schools and other organizations. Send every student home with a coupon good for a month of training at your gym. This can be one of the best ways to get new students to come through your door.
Step 8
Contact schools and clubs that offer complementary martial arts programs. Professionals in the martial arts industry are often open to communication with other professionals. Together, you may find opportunities for promotions, fun tournaments and other activities.
Warning
Business law is complex and carries strong penalties for failure. If you have any doubts about the general business process, consult with your lawyer or other mentor before moving forward.