Pan-frying chuck steak requires tenderizing, since these arm and shoulder cuts are a bit tough for dry-heat cooking methods. Marinating in milk, buttermilk or yogurt does the trick, as does a soak incorporating pineapple, papaya or kiwifruit. Alternatively, tenderize a boneless cut by pounding it into a cutlet. This is standard procedure for turning a chuck steak into a cube steak or the Southern classic chicken-fried or country-fried steak. Frying without breading is a lower-calorie preparation, especially since it requires less cooking fat.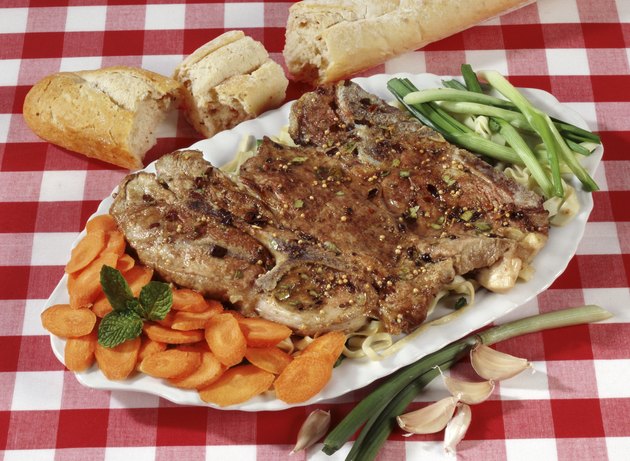 Without Breading
Step 1
Remove the chuck steak from the tenderizing marinade about 45 minutes ahead of time. Blot it dry with paper towels and salt it liberally. The salt needs time to draw moisture out of the meat and season it, with time left for the moisture to be reabsorbed.
Step 2
Season both sides of the boneless chuck steak to taste with any additional desired ingredients. Freshly cracked black pepper, thyme, rosemary, chili pepper powder or garlic powder adds complementary depth of flavor.
Step 3
Heat a cast-iron, stainless steel or other heavy-bottomed frying pan over medium-high heat. Add just enough cooking oil to coat the bottom and wait for it to heat to the point of moving around with a watery consistency.
Step 4
Lay the steak in the pan and sear the bottom for approximately 2 minutes without moving the meat. Let it develop a crust and a nice browning. Turn it with a spatula or tongs and sear the other side the same way.
Step 5
Flip the chuck steak every 30 to 60 seconds, spooning the pan juices over the top after each turn to accelerate cooking and promote attractive browning. Use a meat thermometer to determine doneness. Cook to 120 degrees Fahrenheit for rare, 130 F for medium-rare, 140 F for medium, 150 F for medium-well or 160 F for well done; the USDA recommends a minimum internal temperature of 145 F for safety. As a rough guide, expect a 1-inch thick cut to take about 8 to 10 minutes to reach medium.
Step 6
Take the steak out of the frying pan promptly to avoid overcooking it. Let it rest for 5 minutes before serving.
With Breading
Step 1
Dredge the pounded chuck steak in flour. Stop here if you're preparing cube steak, or continue with a more substantial coating for country-fried or chicken-fried steak. After the flour, dip the entire steak in beaten egg and let the excess run off. Dredge the meat again in a mixture of flour, cornmeal, salt and any other desired seasonings.
Step 2
Preheat a heavy-bottomed frying pan over medium-high heat. Add in a liberal amount of cooking oil and heat it to 350 F, using a deep-fry thermometer to measure it.
Step 3
Place the breaded boneless steak into the pan. Fry the first side until the coating on the bottom develops a rich golden-brown color and crispy texture. Turn the meat with a spatula and fry the second side the same way. Expect it to take around 3 to 5 minutes per side for cube steak or 5 to 7 minutes per side for country-fried or chicken-fried steak.
Things You'll Need
Paper towels

Salt

Complementary seasonings

Heavy-bottomed frying pan

Cooking oil

Spatula

Flour

Eggs

Deep-fry thermometer