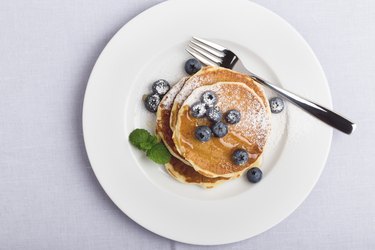 Aunt Jemima makes a pancake recipe easy. This company's pancake mixes come in a variety of choices. For some of them, you can't make the pancake recipe without milk — you must use milk, or a dairy-free milk substitute. Additionally, most of the mixes require eggs or an egg substitute.
Tip
In some cases, you can't make an Aunt Jemima pancake recipe without milk. However, for less fuss, try the Buttermilk Complete Pancake & Waffle Mix to "just add water."
Make the pancake mix with milk instead of water, unless you're using Aunt Jemima Buttermilk Complete Pancake & Waffle Mix — which is a "just add water" pancake mix recipe.
Making Pancake Mix Easy
Aunt Jemima takes the guesswork out of making perfect pancakes. However, for many of the mixes, you should not make the pancake recipe without milk. Milk not only adds flavor, but the milk fat is necessary for tender, moist pancakes. Plain water just won't give the same results.
Milk can also be added in place of water in the "complete" mixes for a thicker texture.
Add Some Milk
When using milk in Aunt Jemima's Pancake mixes, you have a lot of choices. Skim or 1 percent milk works well with less fat than 2 percent or whole milk.
For dairy-free options, substitute soy milk, almond milk, rice milk or coconut milk. These milk substitutes may make a pancake that's slightly less tender or rich. You may also notice a slight change in flavor, especially if you use a flavored milk substitute.
Coconut milk imparts a slight coconut flavor to the pancakes. Use the same quantity as you would regular milk.
Store Pancakes Safely
Although Aunt Jemima Pancake mixes are shelf-stable, once you add milk and eggs, the pancakes themselves become perishable. Pancakes are quick to make and taste best just after they're made, so make them fresh whenever possible. In a pinch, though, you can make a batch ahead for quick weekday breakfasts.
Aunt Jemima's website recommends cooking pancakes for storage, rather than saving the batter. Freeze pancakes with wax paper between each one, wrapped securely in foil or an air-tight freezer bag. Consume within 6 weeks.
To reduce risk of harmful bacteria growth, do not consume pancakes that have been at room temperature for more than 2 hours, as advised by the USDA.
Reheat frozen pancakes in the oven for 8 to 10 minutes at 375 degrees Fahrenheit, or in the microwave on high for 75 to 90 seconds.
Make Healthier Choices
Using skim milk, low-fat milk or a non-dairy milk substitute is a good start in making healthier pancakes, but don't stop there. Opt for whole Aunt Jemima's whole wheat blend pancakes, rather than regular pancakes.
Whole wheat pancake mix will give you 3 grams of fiber per serving, versus less than 1 gram in the original mix. According to the National Academies of Sciences, women need 25 grams of fiber per day while men need 38 grams.
Top the pancakes with fresh fruit, honey or a drizzle of real maple syrup, rather than artificial maple syrup. Read package ingredient panels as well. Aunt Jemima Pancake mixes may contain partially hydrogenated oils, corn syrup solids and preservatives.
These pancake mixes are also often high in sodium. One serving of original mix has 600 milligrams of sodium. According to the American Heart Association, healthy adults should consume no more than 2,300 milligrams of sodium per day.