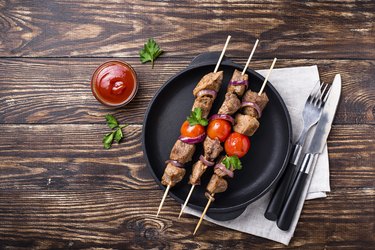 Beef kabobs are a delicious way to add variety to your grilled meals and explore a variety of flavors and marinades. Kabob sides may include grilled vegetables, salads, fruit or rice.
Plan a Healthy Meal
When choosing side dishes, Harvard University School of Public Health recommends filling half of your plate with fruits and vegetables and about a quarter of your plate with whole grains. The remaining quarter of your plate is your cubed beef kabobs.
For your kabob, consider a lean cut of tri-tip which has 110 calories in a 3-ounce serving, advises the USDA. You will get about 18.1 grams of protein and 3.6 grams of fat along with several important vitamins and minerals including:
1.3 milligrams, or 7 percent Daily Value, of iron

292.4 milligrams, or 6 percent Daily Value, of potassium

3.3 milligrams, or 30 percent Daily Value, of zinc

0.8 micrograms, or 32

percent Daily Value, of vitamin B12
Add variety to your kabobs by trying different seasonings and marinades. For example, try a middle eastern kabob and season the beef with lemon juice, oil, cinnamon and salt and serve with a yogurt and mint dip, advises LIVESTRONG.com.
Grill Vegetables with Kabobs
A selection of grilled fruit or vegetables may be the perfect food to go with shish kabobs. You can chop, prepare and grill them alongside your beef kabob cubes. Some options you can add to your skewer and grill alongside your kabobs include tomatoes, onions, mushrooms, pineapple, peppers and potatoes.
Consider a grilled vegetable salad with eggplant, red pepper, summer squash, zucchini mushrooms and onions, advises Bastyr University. Add the grilled vegetables on top of mixed greens and top with feta cheese and a poppyseed dressing made with olive oil, brown rice vinegar and dijon mustard.
If you need fast, five-minute side dishes, consider a simple side salad with mixed greens topped with tomatoes, cucumbers and croutons or a Caesar salad with romaine lettuce. Alternatively, enjoy a fresh fruit salad along with your kabobs with fruits such as berries, oranges, apples, bananas and pineapple.
Serve Seasoned Rice with Kabobs
Rice, especially whole-grain rice, makes a great side for kabobs and is a nutritious way to get your daily servings of grains. Try a colorful rice pilaf with long-grain rice, vermicelli noodles, dried cranberry or pomegranate arils and pistachios.
Alternatively, keep it simple with plain rice seasoned with salt and pepper to spice it up. For a healthier option, make cauliflower rice by chopping the florets in a food processor and heating the resulting rice in a pan with olive oil.
Other grains to consider as a side dish include couscous and quinoa, advises the National Institute of Health. A cornbread or biscuits are also a good side to go along with your kabobs. Consider a pita bread to eat with your kabob or to stuff with the grilled vegetable salad.