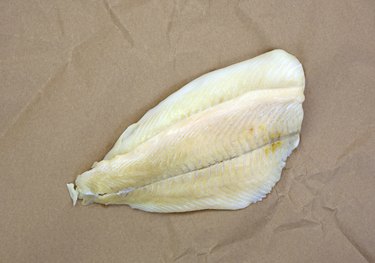 Flounder is a juicy and tender white meat fish with a mild flavor. Its meat takes well to high temperatures, as the exterior forms a slightly sweet crust while the interior remains moist. Adding seasonings will introduce more flavors to the meat, complementing its natural flavor. Broiling flounder fillets cooks them quickly and sears in the meat's natural juices. This recipe is for two flounder fillets; but you can adjust it to suit your dining needs.
Step 2
Lay the flounder fillets on the broiler pan and allow them to rest at room temperature for 10 minutes.
Step 3
Blend the cooking oil, lemon juice, ground thyme, paprika, garlic powder and ground black pepper in a small bowl. Whisk to blend the seasoning mixture.
Step 4
Spread the seasoning mixture evenly over each side of the flounder fillets with a pastry brush.
Step 5
Place the broiler pan into the broiler and allow the flounder fillets to cook for 5 minutes.
Step 6
Flip the fillets and continue broiling them for 3 to 5 minutes or until their flesh flakes easily when you pick at it with a knife.
Step 7
Allow the broiled flounder fillets to cool at room temperature for 3 minutes before serving them.
Things You'll Need
2 5-oz. flounder fillets, thawed or fresh

Broiler pan, lightly greased

3 tbsp. cooking oil like olive, vegetable, sesame

2 tbsp. lemon juice

1 tsp. ground thyme

1 tsp. paprika

1/2 tsp. garlic powder

1/2 tsp. ground black pepper

Small bowl

Whisk

Pastry brush
Tip
If you have a favorite flounder seasoning, use it in lieu of the one presented in this recipe.